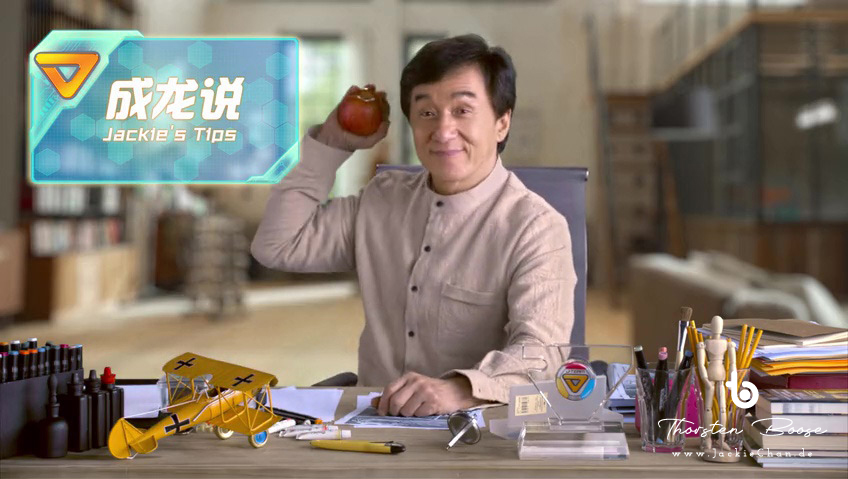 All New Jackie Chan Adventures: Episode Guide for the Chinese animated series
After the success of "Rush Hour" (1998), the US wanted to make the name Jackie Chan better known among the younger generation. In 2000, the successful animation series "Jackie Chan Adventures" started, which celebrated worldwide success in a total of five seasons. This was followed by a video game and Jackie's willingness to add a second animation series.
Jackie Chan goes Cartoon
Even before "Jackie Chan Adventures" (2000-2005) was discussed, the makers behind the famous "Spartan X" comics wanted to produce a TV adaptation for children's programs. The adventures of Spartan X, Jackie Chan, were supposed to put the main character in the most impossible situations that the nimble animation hero could only get out of thanks to his acrobatics, cunning and kung fu tricks. More about the US comics about Jackie Chan can be found in my article "Jackie Chan's Spartan X: Official 90s US comic series about Jackie Chan – an overview".
I wish the comics had a bigger hit and gave us this series as a gift. But it turned out differently. Jackie and Willie Chan co-produced "Jackie Chan Adventures" with Columbia TriStar, which became a worldwide hit. Jackie slips into the role of an archeology professor who helps his friend Augustus Black from Section 13 with secret missions around the world.
This reminds of Indiana Jones, but also of Jackie Chan's successful "Armour Of God" film series – which in turn is based on Indiana Jones. During the first phase of the broadcast, Jackie announced that he was working on an animated web series in Hong Kong with Edward Yang and his team from StarEast. The whole thing was managed by Edward Yang's company Miluku and that's how the first Flash animations were created on the Internet. Unfortunately, these are now considered lost, so if you still have them on a hard drive at home, please contact me.
The Miluku web project included the following flash animation titles: "The God Brother", "Gone with the Wind" and "Casablanca". The Miluku website was very modern and interactive back then. One can only speculate why the project was not pursued. Ultimately, not only did the Miluku project die with Edward Yang in 2007, but also an animated film planned together with Jackie Chan called "The Wind" (2007) (more on this here).
The Chinese animated Jackie Chan
In 2009, Jackie Chan started the second attempt with his own animation series for a Chinese audience. I reported extensively on "Jackie Chan's Fantasia" (2009-2010, 奇幻 龙宝) in my article "Jackie Chan's Fantasia: Will the forgotten anime series from China be running in Germany soon?", which is why I only mention this series here briefly.
Even if "Jackie Chan's Fantasia" (2009-2010, 奇幻 龙宝) is intended for a slightly younger audience than "Jackie Chan Adventures" (2000-2005), the series contains the well-known adventurous and innocent Chan character. Unfortunately, there is no English publication – just as there is no such thing as Jackie's third and so far last animated series: "All New Jackie Chan Adventures" (2017, 新 成龙 历险 记).
This TV series is also known as the "J-Team" and is intended for an even younger audience, 5 to 12 years of age, than its two predecessors. But just like in "Jackie Chan Adventures" and "Jackie Chan's Fantasia" (奇幻 龙宝), Jackie not only appears here as a producer, but also as a real person in small clips at the end of each episode. These clips are called "Jackie's Tips" (成龙 说) because he speaks directly to the children there with everyday wisdom.
Unfortunately, there is no international version of the series here either – unlike "Jackie Chan's Fantasia" (2009-2010, 奇幻 龙宝), which received at least an English language version, or "Jackie Chan Adventures" (2000-2005), which was completely dubbed in German. Therefore, I have translated the following titles of each individual episode of the TV series based on the Chinese and the titles already translated into English by the producers.
Note: All English titles are placed in front of each episode in a band under the original title and can sometimes seem surprising. I have adopted grammatical errors 1: 1 in order to list them correctly.
---
Episode list for "All New Jackie Chan Adventures" (新成龙历险记)
Season 1
Season 2
What is "All New Jackie Chan Adventures" (新成龙历险记)?
Whenever a child falls asleep, it automatically enters the dream world. There only the guardians of the dream world can switch between the dreams and the reality in order to protect the children from the bad nightmares. The evil professor Ranlai, trapped in the dream world, wants to plant nightmares in the children with the help of his monsters in order to produce enough energy from their fear. With this energy, Professor Ranlai wants to build a tunnel back to reality. The J-Team is supposed to protect the children from the bad nightmares and fight against the monsters of Professor Ranlai.
Official trailer (English subtitles)
Here you can find the official trailer of "All New Jackie Chan Adventures" (新 成龙 历险 记):
---
Characters of the series
---
Jackie Chan as himself in "All New Jackie Chan Adventures" (新成龙历险记)
Each episode begins with the real Jackie Chan in his artist studio. There, you can see him having an idea and acrobatically acquiring utensils in the old Jackie Chan manner in order to draw at his desk. The intro then shows the animated characters of the series and the respective episode begins.
Since Jackie Chan not only appears here as a producer and presenter, but also wants to act as a role model for his young audience, the real Jackie comes back for a few seconds at the end of each episode and gives useful tips on nutrition, hygiene, social commitment and much more . These little clips are called "Jackie's Tips" (成龙说).
---
Production notes and a new film company
In April 2017, shortly after Jackie Chan's 63rd birthday, he publicly announced that he was working on a new children's television series. The title "All New Jackie Chan Adventures" (新成龙历险记) is supposed to be reminiscent of his popular US television series "Jackie Chan Adventures" (2000-2005), but has nothing to do with it in terms of content – after all, they are "completely new Jackie Chan's Adventure ". The series was nicknamed "J-Team".
At the press event it was announced that a total of 104 episodes of 12-13 minutes each had been produced in two seasons and that over 200 TV stations would soon be broadcasting the series. The official start was August 10, 2017. How it came about is of particular importance for German fans:
"By chance I overheard how a child from Germany was still watching my cartoon from back then. I thought if my series is so sustainable I should build on it. In fact, "Jackie Chan Adventures" (2000-2005) has been running here in China for almost seven years.

But this time, I wanted to put the Chinese culture in the foreground. The production should offer local employees the opportunity to get work and to make their own culture better known in the world, so that more tourists continue to travel to China."

Jackie Chan at the April 2017 press conference
The new 3D technology children's series cost the equivalent of about US $ 6 million and was a collaboration between Zhejiang Talent Television & Film Co. Ltd, Khorgas JJ Culture Media Co., Ltd, and VJ Animation Studio. They wanted to meet international standards in order to make exports possible. It is interesting that a new company was founded especially for this project that bears Jackie Chan's trademark.
When the series was announced, it was already said that a feature film was planned for 2019. So they wanted to make the newly founded animation company economically profitable. But who is behind "Khorgas JJ Culture Media Co., Ltd." (霍尔果斯 傑 捷 文化 传媒 有限公司)?
Khorgas, also known as Korgas, Korgos or Horgos, is a small town by Chinese standards with approx. 85,000 inhabitants on the Chinese-Kazakh border. The city is located in the Kazakh Uyghur Autonomous District called Ili in the Xinjiang Autonomous Region in northwest China.
Jackie Chan moved his business headquarters to Beijing and Shanghai after he left Hong Kong around 2009 (he still maintains a few properties and his office there today). Therefore, the choice of founding a new film company in this rather remote part of China is surprising, but it can be explained by the fact that they might wanted to try to increase the gross domestic product of this region, which has not yet been that economically developed by China. To make this clear, Korgas is 3430 km from the metropolises of Beijing and a whopping 4634 km from Shanghai. Europe in its entire width is estimated at 6000 km …
The region around Xinjiang has been of interest to investors such as Coca Cola, Volkswagen, Siemens and BASF for several years. Especially the agricultural Khorgas, which is also struggling by a lack of access to the water, wants to expand its GDP here with technology companies.
If you research further, you will find business information about "Khorgas JJ Culture Media Co., Ltd." (霍尔果斯 傑 捷 文化 传媒 有限公司). It was founded on July 26, 2016, in this very city. The official address is 新疆 伊犁 州 霍尔果斯 国税局 住宅 楼 1101 号.
It seems to be a mailbox company, probably relocated there for tax reasons. But what is much more interesting is the name of the legal representative: Wu Gang (伍刚).
Wu Gang is loyal to his boss Jackie Chan to this day and works regularly for his film productions as well as in the Jackie Chan Stunt Team Training Centre (成家班国际动作训练基地) in Tianjin, China, with young talents and big names in the film business worldwide. In addition, Wu Gang was also appointed manager of the Jackie Chan Film Gallery (成龙电影艺术馆) in Shanghai, a museum owned by Jackie Chan for his fans, where he was responsible for business affairs until it closed on July 15, 2020.
By the way, if it wasn't for Wu Gang and Stanley Tong Jackie Chan hadn't been able to celebrate the 40th anniversary of the Jackie Chan stunt team on television, so that fans can see it and privately behind the scenes. The two not only came up with the idea, they also played a key role in its implementation.
Jackie Chan's stuntmen are not just simple warriors who risk their lives for film stunts. Many of them have other important tasks within the "Jackie Chan Family" (成家班). So it is not uncommon for a loyal member who can already look back on management experience to be entrusted with other tasks such as running a film animation company. What a vote of confidence on the part of the boss Jackie Chan, who ultimately vouches for everything with his name.
In the end credits of the series, the name Wu Gang (伍刚) is emblazoned among the presenters. We know another name from films such as "Chinese Zodiac" (2012), "Skiptrace" (2016) and soon also "SNAFU" (planned for 2022): Wu Hong-liang (吴宠亮). Esmond Ren (任衣萬), who starred in "First Strike" (1996) alongside Jackie Chan in the film and in films such as "Little Big Soldier" (2010), "Chinese Zodiac" (2012) and "Skiptrace" ( 2016) and Joe Tam (運相息) are also from Jackie's production team.
"Khorgas JJ Culture Media Co., Ltd." (霍尔果斯 傑 捷 文化 传媒 有限公司) was officially registered in the fields of culture, sports and entertainment. In addition, there are other interesting information about the industries in which the company is allowed to be active: Marketing agency for film & TV, organization of cultural and art communication activities, personnel evaluation, development and application of early warning technologies for public transport, development and application services of e-commerce and E-government systems, electronic data exchange technology, visualization technology and freight tracking and much more.
True to the motto "Everything is possible". The company is still active to this day, even if it only has this animated TV series as its production credit. Maybe something will follow?
---
Theme score
As is so often the case with Chan's own productions, the master himself sings the title song. Together with Xia Tian (夏天) Jackie Chan once again gives a rocking Mandarin performance in the song "梦境守护者J-TEAM" ("Guardians of the Dreams"). The melody and lyrics are from Zhao Jia Lin (赵佳霖).
Jackie himself cannot be seen in the music video that was released in late 2017 after the TV series first aired. It is a compilation of various scenes from the television series. Thanks to the Chinese subtitles, children can read along and sing along very easily.
I uploaded the music video unedited, but below I wrote down the original song text and freely translated it into English. A slightly slower version of the song is circulating on the internet and I can't say for sure which is the original one.
Lyrics to sing along to + translation
"梦境守护者 J-TEAM" ("Guardians of the Dreams")
Voice: Jackie Chan (成龙) & Xia Tian (夏天)
Lyrics & music: Zhao Jia Lin (赵佳霖)
VERSE 1
Jackie Chan (成龙):
看那遥远的东方
Kàn nà yáoyuǎn de dōngfāng
Look at the Far East
Xia Tian (夏天):
是什么在发光
Shì shénme zài fāguāng
It's so shiny there
Jackie Chan (成龙):
有人说是初升的太阳
Yǒurén shuō shì chū shēng de tàiyáng
Some people say it's the land of the rising sun
Xia Tian (夏天):
我觉得是心里的希望
Wǒ juédé shì xīnlǐ de xīwàng
For me it's a feeling like hope in my heart
Jackie Chan (成龙):
不忘最初善良
Bù wàng zuìchū shànliáng
And don't forget how kind everybody is there
成长中变坚强
Chéngzhǎng zhōng biàn jiānqiáng
We become stronger
梦中笑容像天使一样
Mèng zhōng xiàoróng xiàng tiānshǐ yīyàng
Smile in the dreams like an angel
CHORUS
Jackie Chan (成龙):
Duang! Duang! Duang!
钟声在認响
Zhōng shēng zài rèn xiǎng
This is the ringing sound
Duang! Duang! Duang!
无穷的力量
Wúqióng de lìliàng
You'll reach infinite power
Duang! Duang! Duang!
打败了魔王胜利在前方
Dǎbàile mówáng shènglì zài qiánfāng
The demon king is defeated, victory's ahead
Duang! Duang! Duang!
留住了欢笑
Liú zhùle huānxiào
Keep on smiling
Duang! Duang! Duang!
赶走了悲伤
Gǎn zǒule bēishāng
Drive away the sadness
让我守护你们的梦想
Ràng wǒ shǒuhù nǐmen de mèngxiǎng
Let me guard your dreams
Repeat the second verse from the beginning. The very last line is repeated three times, twice bilingual with Xia Tian (夏天).
---
Releases from "All New Jackie Chan Adventures" (新成龙历险记)
Even though the series was broadcast in the Chinese-speaking area in Southeast Asia and thanks to satellites worldwide on over 200 channels and is now available on various Chinese online video platforms – sometimes free of charge – there is still no worthy release for home cinema.
As of today, I am not aware of any DVD or Blu-ray box that contains even an episode of "All New Jackie Chan Adventures" (2017, 新成龙历险记), strangely enough, no VCD box, not even a bootleg variant. It would be absolutely time to make this series available in the home. Even if streaming services are becoming increasingly important in Southeast Asia, classic haptic publication for the shelf has something to offer.
A year after the first broadcast in China, however, there was a small comic book series for the tv show. The popular children's series is summarized in four oversized paperback volumes. The following pictures only show these books, not a DVD/Blu-ray publication.
Book cover 1, without and with removable belly band (OBI) EAN: 978-7-5596-1477-3
Book cover 2, without and with removable belly band (OBI) EAN: 978-7-5596-1478-0
Book cover 3, without and with removable belly band (OBI) EAN: 978-7-5596-1612-8
Book cover 4, without and with removable belly band (OBI) EAN: 978-7-5596-1613-5
With an advertised price of 29.80 Yuan, the equivalent of just under 4 Euros, these booklets are definitely worth importing for your own collection. Take a look at Taobao.
The movie, which was already announced at the time, wasn't that important at the beginning of the J-Team trip. At least according to Jackie Chan. For him, the start and success of the series had priority. The film was planned for 2019, but nobody has said a word about it until today. So one can assume that this project will not be pursued any further.
Even if I've already embedded it at the top, here is the official trailer for the television series with English subtitles:
---
Merchandising for the anime series
In addition to the books mentioned above, there were a few knickknacks with the motifs of the series. These merchandise items were often raffled off in competitions relating to the first broadcast in China. Today, you have to keep your eyes open so that you come across these collectibles online or offline in second-hand shops or with fans.