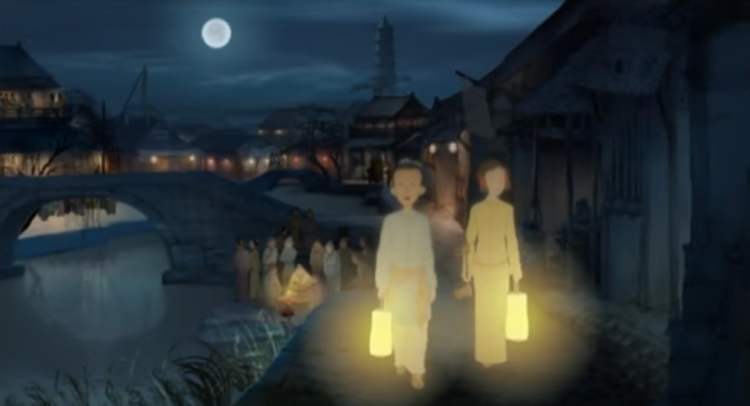 Edward Yang's "The Wind" is finally hitting cinemas after 20 years
After his death in 2007, Taiwanese director Edward Yang left behind not only a cinematic legacy, but also a vision that may now become reality: an old-school animated film thanks to Adobe Photoshop and Flash – and possibly thanks to Jackie Chan.
Edward Yang was a well-respected screenwriter and director in the 1980s and 1990s. The Taiwanese actually studied electrical engineering and worked in the USA for a few years. The medium of film has always fascinated him, and so he gradually got into this industry. Until, finally, his influence could no longer be argued away from Taiwanese cinema.
Electrical engineering meets computer design
Edward Yang, born Yang Dechang on November 6, 1947, mixed his degree in electrical engineering and his work at the Center for Informatics Research at the University of Florida with modern computer and animation design.
When Edward Yang was disappointed in the US film schools in the 1980s because he thought they were too commercial, he moved to Seattle. He worked on defense computer software there. When he saw Werner Herzog's film "Aguirre, the Wrath of God" (1972) with Klaus Kinski at that time, he was inspired and studied classical European cinema on his own initiative. The foundation for Edward Yang's own work was laid.
After films such as "Taipei Story" (1985), "A Summer to Fall in Love" (1991) and others, Edward Yang came up with the idea of ​​mixing his academic backgrounds with his passion for film. In 2000, he founded his company Miluku Technology & Entertainment (鎧 甲 娛樂 科技), which was supposed to produce computer animations for film, TV and the Internet.
Cooperation with the JC Group
Edward Yang was many years ahead of his time and immediately put it into next gear. Just a few months after the company was founded, the company's website went big at www.miluku.com. One of the partners was YAHOO! The website presented some content, work samples and referred to the philosophy of Miluku – Edward Yang wanted to serve all of Asia with computer animation.
When all doors opened online in February 2002, most filmmakers in Hong Kong and Taiwan believed that Miluku was the future of animation. Over 150 animated clips developed in previous years were uploaded to the platform free of charge and were the most expensive project of its kind at the time.
Miluku regularly celebrated success with its own web series called "A Lover's Way" (情人 fe 路): the website recorded over 150,000 visits per day just because of this animation. "A Lover's Way" was produced with the Flash software, which was very popular back then, but is now considered obsolete.
Just a month later, in May 2002, Miluku and the JC Group, Jackie Chan's office, announced their official partnership. Edward Yang and Jackie Chan met months earlier to discuss joint film projects. Jackie wanted to make a drama, but Edward Yang was able to convince him of his new technique. Older Screen Power issues and reports in Kid's Corner on Jackie's website explain this.
The unfinished works of Edward Yang and Jackie Chan
A whole series of Miluku-produced content was planned, spanning cinema, TV, Internet and video games. So they started online in 2002 with four clips of an animated Jackie chan:
Clip 1 shows Jackie as a pianist doing some somersaults and giving out kicks. Clip 2 pays homage to "The Godfather" and Marlon Brando; Jackie smears oil on his hair and stuffs dim sum into his cheeks to portray a "God Brother". Then there was a Jackie Chan in clip 3 disguised as Rhett (Clark Gable) from "Gone With the Wind" and in clip 4 disguised as Humphrey Bogart in "Casablanca". These Flash animations were only online for a while and are now considered lost. So if you find it on an old data carrier at home, you're in luck – and please contact me.
In addition to the already published web series, based on Adobe Flash, a TV series similar to the then successful »Jackie Chan Adventures« was planned. Likewise a video game – it is not known for which platform. And last but not least, Jackie Chan and Edward Yang worked on a joint animated film for the cinema.
"The Wind" is finally being completed
There are some contradicting statements about the movie. It could be that they were planning several and wanted to start an animated film based on the web series as early as 2004. As you know, this one did not happen, just like the TV series. Instead, they worked hard on a project called "The Wind".
This animated film was in production from 2004 on. Jackie Chan and Edward Yang worked closely as co-producers here, and it can be assumed that Jackie would have accepted a role as voice actor, had it not been for Edward Yang's tragic death on June 29, 2007, of colon cancer.
The young company Miluku had not yet established itself at this point in time and so many projects stalled after the death of its founder until they were finally completely forgotten. Unfortunately, »The Wind«, which was planned for 2007, did not materialize. But a few years later, hard-working employees of the design team put together an almost 10-minute excerpt from "The Wind" with the help of Photoshop and Flash and shared it with the public. Jackie Chan did not work on this clip, but breaking news according to the Movie Douban database may change that.
Because recently it became known that in memory of Edward Yang a film called "Chasing The Wind" (追风录) will be released in 2022 and will continue the work from then. So, twenty years after the start of the Miluku vision, this feature film would finally be completed. And maybe Jackie Chan shows solidarity and works on this project again.
After all, the main character is said to be based on Jackie Chan.