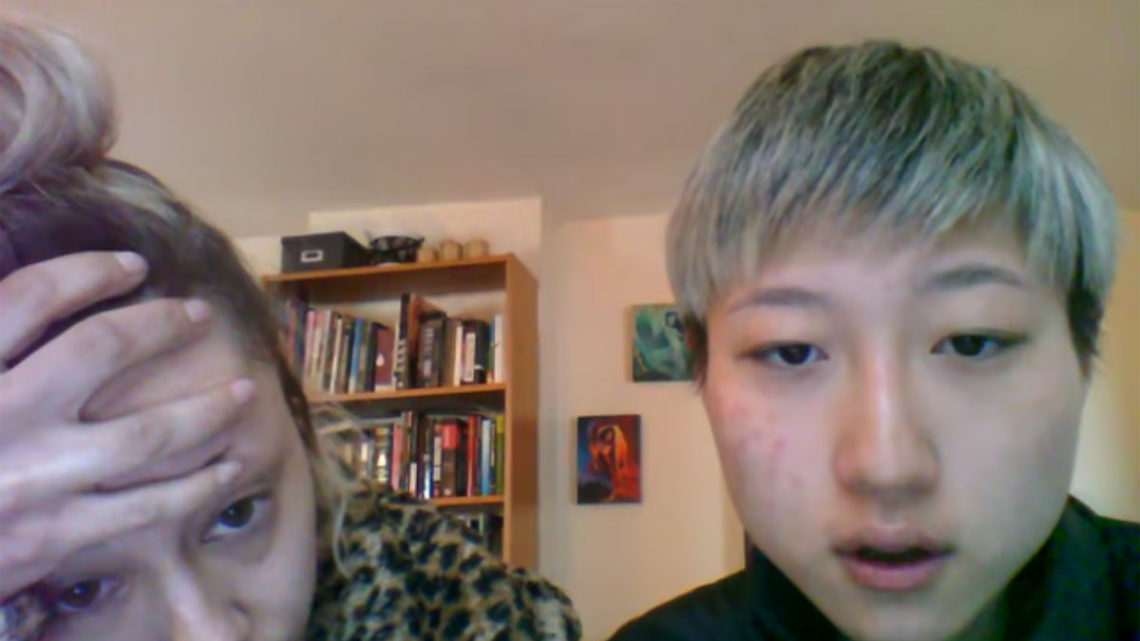 Jackie Chan's daughter claims she is homeless because of homophobic parents
It was only a few months ago that Etta Ng, Jackie Chan's illegitimate daughter, came out as gay. Since then she has been living out her relationship with Audi Autumn, a 12 year older influencer who is active on Instagram under the nickname @stolenmilktea, in public. This is frowned upon in conservative China, but now the 18-year-old probably wants to take advantage of her father's, Jackie Chan, fame – contrary to her mother's encouragement.
Already in October 2017, I reported about the coming out of Etta Ng, the illegitimate daughter of Jackie Chan and the former Miss Asia Elaine Ng Yi-Lei (click here). This outing caused a sensation, especially in conservative China. Even in the gateway to the west, Hong Kong, homosexuality is still considered socially untenable. Generational conflicts often arise, which often end in violence and public protest marches. The news that the world-famous Jackie Chan had an illegitimate daughter who is also a lesbian has made headlines around the world ever since.
For a few months now it has become silent again about the young Etta Ng. But now she really takes the biscuit. In a personal cry for help, taped on video and with the active support of her influencer friend Andi Autumn, she uploaded her cry for help video on YouTube on April 24, 2018. This has now been removed by the user (as of November 2018), but other fans and YouTube users have uploaded it again:
Even before the video starts, the sensational title attracts attention: "Jackie Chan's daughter Etta Ng Chok Lam and Andi Autumn homeless." When the young 18-year-old begins her text, she reads the following words:
"Hi, I'm Jackie Chan's daughter and this is my friend Andi."

Etta Ng Chok Lam
A real cry for help actually begins with the words "Please, help us!" Or similar phrases, but here it is immediately made clear who it is actually about. Further in the text:
"We have been homeless for a month because our parents are homophobic."

Etta Ng Chok Lam
This is a blatant suggestion that between the lines is of course directed at the famous father Jackie Chan. But why should Jackie be anti-gay? There is neither evidence nor any anecdotes for this that make the star appear in a bad light.
"We've slept under bridges since then … and that sort of thing."

Etta Ng Chok Lam
Then Etta Ng Chok Lam apparently ran out of words when she looked at her cheat sheet and noticed that the script said it was her friend Andi Autumn's turn. She emphasizes that she has turned to all family members and friends, but they only refer her to non-governmental accommodations that she does not accept for homophobic reasons.
Admittedly, homosexuals still have to struggle hard with their social standing around the world, especially in conservative countries like China. Outsiders can never understand the personal pain as well as the physical pain if violent confrontations occur again. In a modern society there should be respectful interaction with one another, no matter what sexual orientation, religion or colour of the skin.
But the subject of respect also includes the sensible use of context-related information. In what apartment are the two women sitting at the laptop and recording a personal video in HD (720p) that was obviously written down beforehand. You make that clear yourself in the video description below:
The video by Etta Ng Chok Lam and Andi Autumn now has 1.5 million views. How the video came about is particularly interesting. Because mother Elaine Ng Yi-Lei made sure that she got sole custody before the birth of her daughter; Jackie Chan was not allowed to participate in the life of their daughter. That would not have been possible for the busy father, who has a family himself, and the former Miss Asia knew that. An agreement was reached in court; the exact conditions are, of course, not known.
Etta Ng Chok Lam grew up with her mother until she was 18. When she publicly announced in late 2017 that she was a lesbian, she was allegedly pursued to such an extent that she ran off to Canada with her friend. The worried mother even posted a missing person report. So, how does it fit together when Etta Ng Chok Lam speaks of "homophobic parents"?
Now, even mother Elaine Ng Yi-Lei has commented on her daughter's video. In an interview with the Hong Kong website on.cc (click here) she said that it was not right to misuse Jackie Chan's name for her personal promotion, after all, he was not there for her entire life (and that was also deliberate and agreed). The now 45-year-old goes on to say: "If you don't have any money, you should look for work." Harsh words from a worried mother who, however, takes Jackie Chan under protection. "You shouldn't be making a video and taking advantage of your father's fame. All over the world people work hard for their lives and don't depend on the fame of others."
So far, Jackie Chan, who is of course threatened with enormous image damage in the media, has not yet spoken out. Experience has shown that he will not do this either, and if he does, then in his own way and when he thinks it is the right time. Of course, one can only hope that Etta Ng Chok Lam and her friend Andi Autumn find shelter and a job so that they can continue to take care of themselves, and that this little harmless video doesn't do more damage to an already broken, if not at all existing father-daughter relationship.