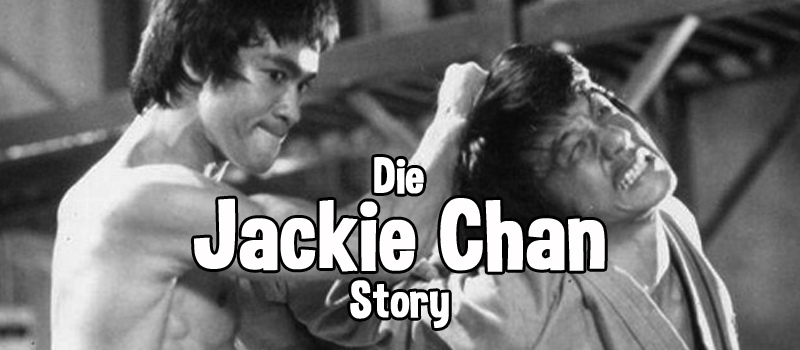 The Jackie Chan story: Kabel eins documentary for 65th birthday of "Chan the Man" reviewed
Jackie Chan celebrated his 65th birthday on April 7, 2019. In his honor, the German TV broadcaster Kabel eins had a documentary made, which premiered on April 8, 2019. Unfortunately, some errors crept in here, but before one criticize them, one should appreciate the thought and effort behind this full-length documentary, especially in Germany.
Since the 1990s, the television broadcaster Kabel eins has repeatedly featured some of Jackie Chan's best films and thus made a significant contribution to the formation of fans in Germany. The general interest in Jackie Chan's films decreased noticeably in the past ten years, all the more surprising was the broadcast of "The Jackie Chan Story" (translated title).
Kabel eins has commissioned the Munich production company Rachals Film (click here), that has already been producing for documentaries such as "The Will Smith Story", "Marrakech, the Pearl of the Orient" and "Otto – The Documentary". With a running length of 57 minutes and 36 seconds, interviews specially arranged for the film and shoots on former film sets, this German production has been a very entertaining one for a long time.
Unfortunately, some errors crept in during research and production. Here are the most serious.
Bruce Lee died of heart failure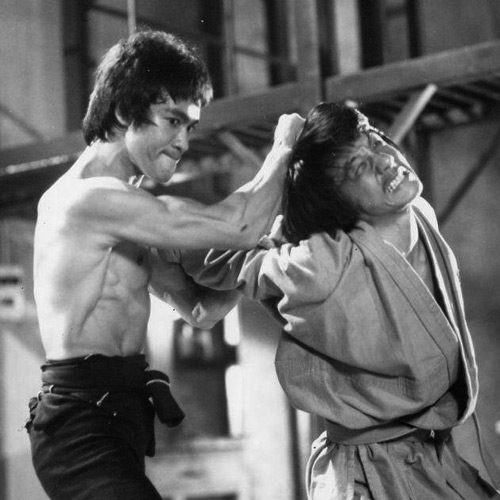 On May 10, 1973, Lee collapsed during an automated dialogue replacement session for Enter the Dragon at Golden Harvest in Hong Kong. Suffering from seizures and headaches, he was immediately rushed to Hong Kong Baptist Hospital, where doctors diagnosed cerebral edema. They were able to reduce the swelling through the administration of mannitol. The headache and cerebral edema that occurred in his first collapse were later repeated on the day of his death.
(Source: https://en.wikipedia.org/wiki/Bruce_Lee#Death; status: April 2nd, 2021)
Jackie Chan attended school from 1962
What many do not know is that Jackie Chan attended a regular elementary school, namely the Nan Hua School, even before his "career" as a Peking Opera student. But Jackie didn't last long there as a six-year-old, liked to fight, was unable to concentrate and never studied. His parents tried everything to get their son under control, but in the end they decided to attend master Yu Jim-Yuen's China Drama Academy.
Incidentally, it was Jackie himself who wanted to stay there, he was never forced by his parents. His training began in 1961 and ended in 1971 after ten tough, formative years. The signed training contract hangs in the Jackie Chan Film Gallery in Shanghai.
More about these beginnings, combined with Jackie Chan's first experiences in the film industry, can be found in my article "Discovery: Jackie Chan discovered thanks to a comparison of film recordings in" The Golden Hairpin "from 1963?".
Jackie Chan always wanted to be a singer
In a nutshell: Jackie Chan is a singer. I don't dare to criticize whether he is a good singer, opinions differ, but the fact is that even before his first official song, "Kung Fu Fighting Man", the English-language theme for the film "The Young Master" (1980), he was an outstanding singer.
However, he was part of the Seven Little Fortunes team when they were at school and they sang Chinese operas, not western pop, rock or anything like that. During his career, Jackie Chan has recorded several albums and over a hundred songs. The motives for this are obvious: charity, family, telling stories.
His autobiography was published shortly before his 65th birthday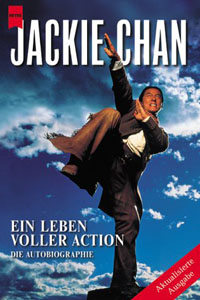 As early as 1998, Jackie Chan published his life story in the book "I Am Jackie Chan – My Life In Action". In it he tells stories from his private life that contradict his "happy go lucky" image. He shows off money and breaks hearts. He reports about all of this at a time when he is finally becoming a megastar in Hollywood and thus worldwide. The move is risky, but it pays off, Jackie Chan earns sympathy points.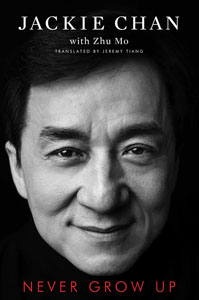 Then, in 2015, the scandal: His second autobiography "Growing Old Before Growing Up" (aka "Never Grow Up, Only Get Older") was published in Chinese. Even before that, the Chinese were divided about Jackie Chan's reputation, but now the star went into even more detail. Most of the stories in Asia were known, if not in great detail, but management noticed that times have changed since "Rush Hour" (1998).
After some struggles it was possible to produce a Russian translation, but for a long time nothing was heard about the book (a special edition after receiving his honorary Oscar was also published in Chinese). Until the long-awaited English translation was finally published under the new title "Never Grow Up" in December 2018; a hit for the western media, who now heard for the first time about their hero's antics.
In lurid journalistic fashion, Jackie Chan's statements such as "I am illiterate" and "I have neglected my family" provide the perfect breeding ground for stories that appeal to a large readership. Steven Gätjen's statement that his biography appeared shortly before his 65th birthday can be easily refuted.
Jackie Chan doesn't stand by his illegitimate daughter
This statement made in the documentary is simply wrong! When Jackie Chan found out in 1999 that the affair with former Miss Asia, Elaine Ng, would result in a child, he stood by her and assured her that he would take care of her and their child. What happened next was hardly in Jackie's power: Elaine Ng forbade Jackie Chan to support her and her daughter financially and emotionally; she didn't want any help and raised her daughter Etta alone.
The headlines back then were full of Jackie's mistake, as he himself admits to having made it. It almost cost him his career. But even over the years he let his trusted stuntmen check Elaine and Etta for everything, concealed of course. He wanted to make sure that they were okay, but they didn't want any contact with him.
When Etta Ng put a YouTube video online at the end of April 2018, shortly after Jackie's birthday, and began with the words "Hello, I'm Jackie Chan's daughter," Jackie was supposed to get the image of a homophobic uncaring father. The action was so distasteful that mother Elaine stepped in and reprimanded her daughter. Read the article "Jackie Chan's daughter claims she is homeless because of homophobic parents".
"Rumble In The Bronx" was Jackie's first US film
This statement in the film is simply wrong and insufficiently illuminated. Jackie Chan's first US film, which is also set in the USA, was "The Big Brawl" (1980). This was followed by guest appearances in the American productions "The Cannonball Run" (1981) and "Cannonball Run II" (1984), before he received his second leading role in an all-US production with "The Protector" (1985).
In addition, "Rumble In The Bronx" is anything but a US production, but you can think of it thanks to Western influences. "Rumble In The Bronx" (1995) is a Hong Kong production and Jackie's first HK film, which he recorded largely in English in order to have better chances on the international market.
You can read more about Jackie's films in "Der neue deutsche Jackie Chan Filmführer" ("The new German Jackie Chan film guide").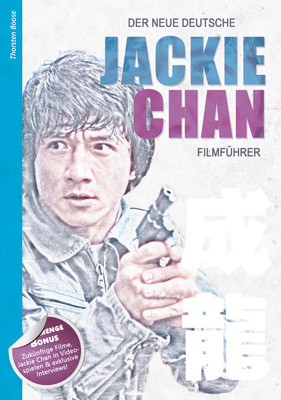 Jackie Chan distances himself from his own son
Another statement that seems very constructed in "The Jackie Chan Story", especially regarding Jackie Chan's relationship with the Smith family. When filming on "The Karate Kid" began, Jackie was impressed with how much Will Smith and his wife Jada Pinkett-Smith supported their son Jaden in his own career.
But Jackie always did the same. As a teenager, Jaycee always wanted to be a singer and composer, and Jackie said, "Well, do that!" as he got older and was occasionally a guest on his father's film set, for example in "First Strike" (1996) and "Shanghai Noon" (2000). Jaycee found pleasure in his father's work. To this day, father and son have appeared in front of the camera in several films, most recently in "Railroad Tigers" (2016). And on "Bleeding Steel" (2017) both even worked together as producers.
In truth, they are even merging a company: Jackie & JJ Productions. The three J stand for Jackie, Jaycee and Joan Lin Feng-Jiao, Jackie's wife and Jaycee's mother.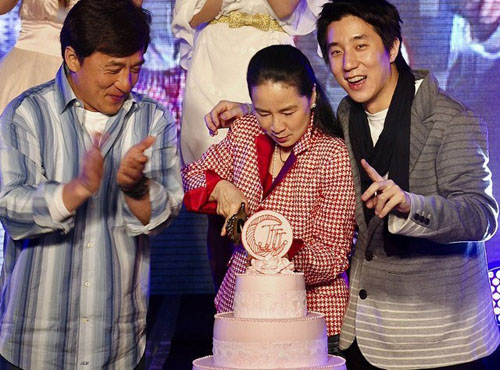 The statement that Jackie Chan is keeping his own son at a distance is untenable. Jackie is a family man, even if he does not correspond to the typical image of a family man. But for Mother's Day Jaycee Chan announced his own film, which Jackie loves to support. "Beijing From Nine To Five" is currently in post-production.
In addition, Jaycee Chan has been pursuing his own singing career for many years and is a gifted singer and songwriter. In 2014, he wrote the song "Peace Song (在 春天)" especially for his father for his 60th birthday, who sang it for the first time at the "Peace & Love & Friendship" concert in Beijing and in 2018 put it on his new album. Jaycee also produced the accompanying music video and wrote another song from Jackie's album "I Am Me" (2018) called "Don't Give Up (別 放棄)", which Jaycee himself sang on his 2010 album "Chaos".
No trace of distance!
Jackie Chan has appeared on stage in musicals
One of Jackie Chan's favorite films is indeed "The Sound Of Music" (1965). And although he often appeared on the Hong Kong Chinese Opera stages with the Seven Little Fortunes as a student of the China Drama Academy, Jackie has never played a part in a Western musical. The black and white posters shown in the documentary "The Jackie Chan Story" are part of the promotion of the film "The Inspector Wears Skirts II" (1989), which Jackie produced under his then film company Golden Way Films.
But who knows, maybe that will change in the future. It would be conceivable, since Jackie Chan was already working on his own musical years ago, based on his life. The first test runs were rated as good, but a tour is not yet planned.
More on this in the article "Jackie Chan soon with his own musical in Hamburg, Cologne and Stuttgart?".
Making of "The Jackie Chan Story"
On May 27, 2019, the fantastic guys from MartialClub (click here to get to their YouTube channel) posted a video online showing the martial arts trio behind the scenes for the filming of the Kabel eins documentary "The Jackie Chan Story". Andy Cheng invited the three acrobats to his US wushu school, where he gave exclusive interviews and demonstrations of his martial arts in front of the camera for the German television station.
This guest appearance by MartialClub is not only an honor for the trio, but also for Jackie Chan's fan base. Because what began on a small scale with the YouTubers – videos with re-enacted fight scenes from Jackie's films – is developing more and more rapidly into a real film cooperation. The trio already helped the master with the choreography for a WildAid commercial. The announcement at the end of this "behind the scenes" material is more than forward-looking and meaningful.