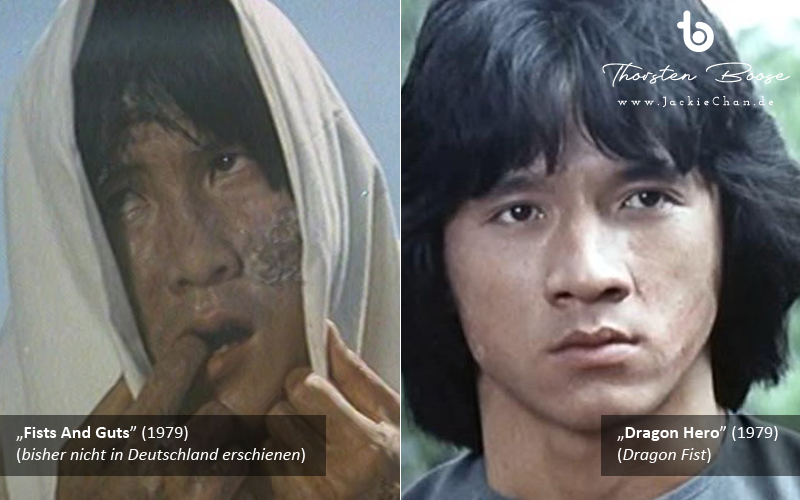 Mysterious Jackie Chan cameo in the film "Fists And Guts" (1979) by director Lau Kar-Wing?
In the late 1970s, Jackie Chan was a star recognized by everybody on the streets of Hong Kong thanks to his films "Snake In The Eagle's Shadow" and "Drunken Master", both released in 1978, as well as the freshly released "The Fearless Hyena". Still contractually bound to Lo Wei, he sometimes helped his friends Sammo Hung and Chen Chi-Hwa as an action director away from the camera. From this very time there is a strange hint of a hidden cameo by Jackie Chan.
It is December 21, 1979. In a few days, not just the year but a whole decade will be over. For many people this is an important step towards a new start. Jackie Chan wanted to tackle exactly such a new beginning. For years he made cheap films under the leadership of Lo Wei that damaged his image.
Reviewing the Lo Wei era
In 1976, the young Jackie Chan signed a contract for almost a dozen films with the then still quite popular director Lo Wei, who worked with Bruce Lee on the classics "Fist Of Fury" (1972) and Cheng Pei-Pei on "The Golden Sword" (1969). Lo Wei wanted to make a new Bruce Lee out of the young Chan, and so he first had to shine in the sequel "New Fist Of Fury" (1976).
The success was meager and people tried other concepts that just didn't work. Without further ado, Jackie Chan was even recommended to have plastic surgery on his eyes. The Asian audience was attracted to big eyes, and so they wanted to manipulate the audience visually. In "Shaolin Wooden Men" (1976) we see Jackie Chan with his natural eye shape for the last time before the operation.
But this measure also failed. Jackie was downcast and saw his entire film career in jeopardy. He secretly worked on third-party productions as an action director and stunt coordinator, such as "Dance Of Death" (1976) by Chen Chi-Hwa and "The 36 Crazy Fists" (1979), also by Chen Chi-Hwa, who in turn collaborated with Lo Wei.
When nothing worked and even Lo Wei no longer believed in the success of his pupil, he loaned it to the young film studio Seasonal Films for cash, where he was granted free work. There are already quiet rumors about the interference of the triads and Jimmy Wang Yu, who put Lo Wei under pressure to free Jackie Chan from his career-destroying clutches. With the two films "Snake In The Eagle's Shadow" and "Drunken Master", both of which broke cinema records in 1978, Jackie became a star and proved to the last doubters, especially Lo Wei, that his way of making films worked.
Jackie Chan on the run from the triads
Jackie had to make another film for Lo Wei after the short detour to Seasonal Films, and the chaos started all over again. Although he was given a free hand for "The Fearless Hyena" (1979), which was rewarded with another box office success, Lo Wei then negotiated another contract. Jackie signed it without the knowledge of his manager Willie Chan, who was furious about it. Both tried to dissolve the contract and bring Jackie Chan to Golden Harvest, but Lo Wei, a well-known member of the triads, the Chinese mafia, manipulated the next film shoots.
Willie Chan decided to send his protégé Jackie to America, where the triads could not reach him. While Jackie was working badly on a career in the USA and was editing his debut film "The Young Master" (1980) for Golden Harvest, Lo Wei was placated. Long story short: Jackie Chan was written out of the contract – again with the help of Jimmy Wang Yu, to whom Jackie now owed two favours – and was allowed to shoot films for Golden Harvest from then on.
The Lau brothers want to become independent
But in all the professional and personal chaos, there is a hint in the actor's filmography that remains unexplained to this day. We're going back to December 21, 1979, we're sitting in a Hong Kong cinema and waiting with hundreds of other Eastern enthusiasts for the latest film by director Lau Kar-Wing.
We know Lau Kar-Wing and his brother Liu Chia-Liang well from the times of the Shaw Brothers, but this film is a joint production of the successful brothers under the newly founded family company Lau Brother Co. (L&B). After "Dirty Kung Fu" (1978), this is only the second production and hope for financial success so that both film luminaries can establish themselves on the market independently of the major film studios.
The cast is impressive: Gordon Liu, Lo Lieh, Lau Kar-Wing himself and Lee Hoi-Sang are supposed to make it for a box office hit. And then there are the stuntmen, all of whom have excellent training, including Mars and Lam Hak-Ming. And it is precisely with the role of Lam Hak-Ming, who embodies the leper king, where the mystery of the supposed Chan cameo begins.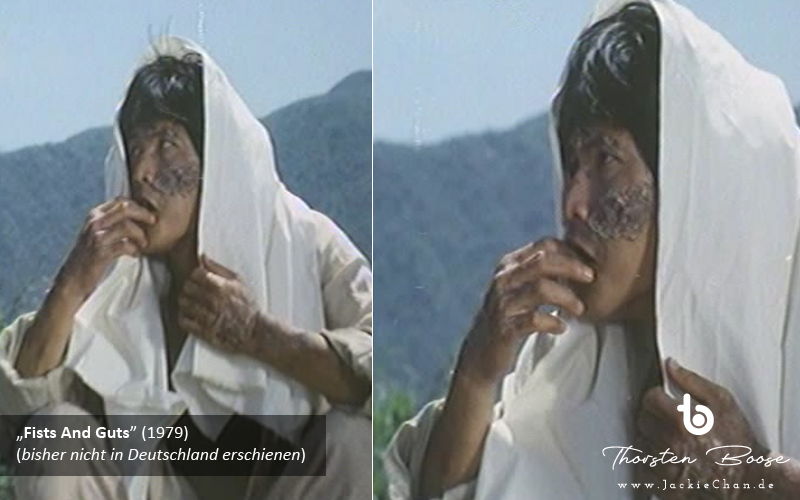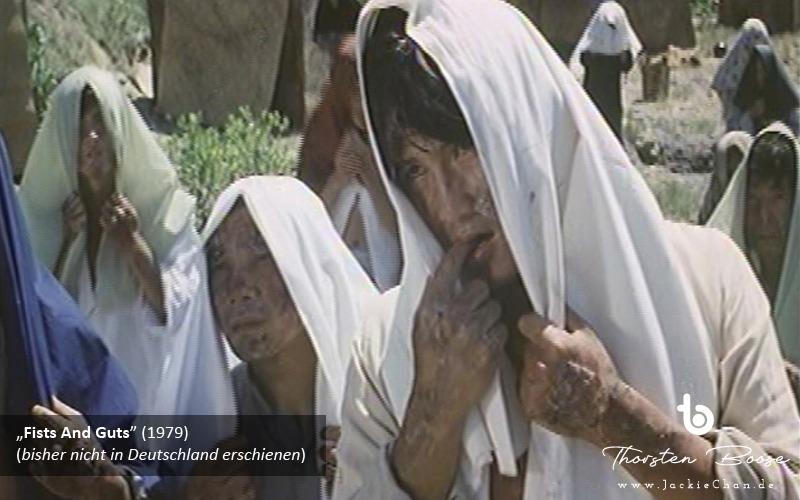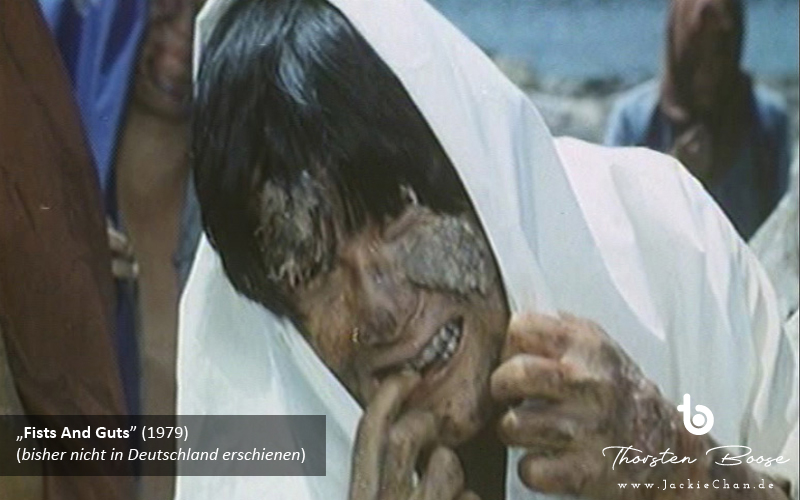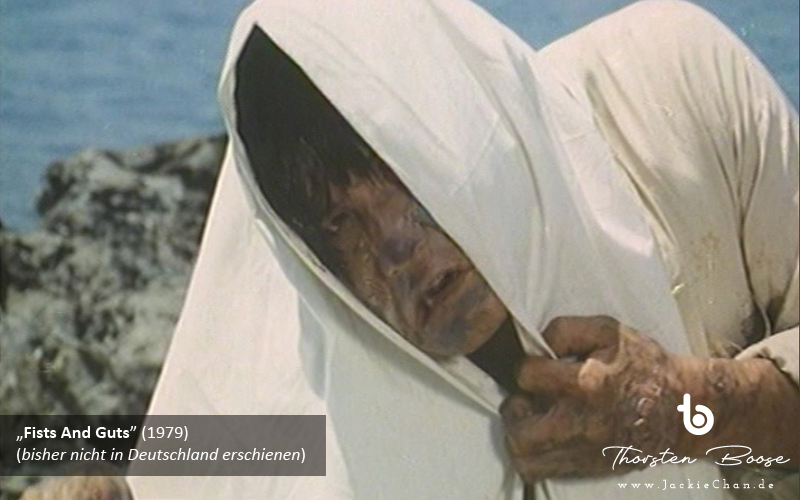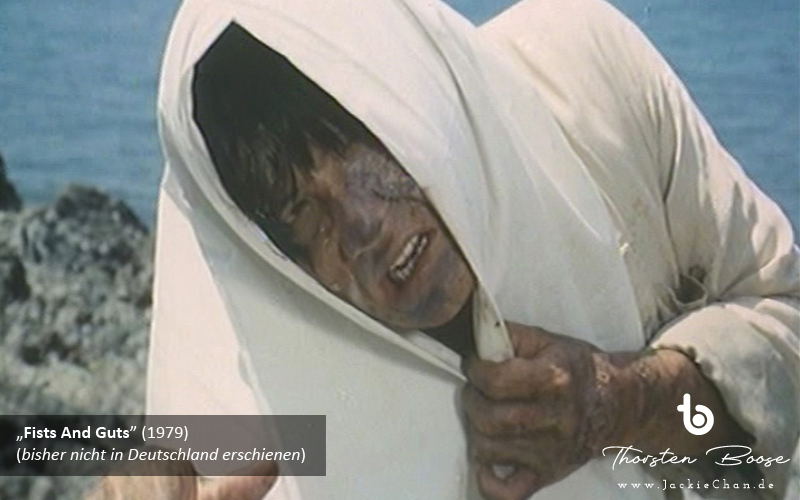 In the next shot, the leper king is back at the starting point (s2e1) and claps his hands aggressively. You can spot the difference between the supposedly different actors better in the video, but also in the photo you can see a difference in terms of facial expressions, make-up and gestures. (s2e2)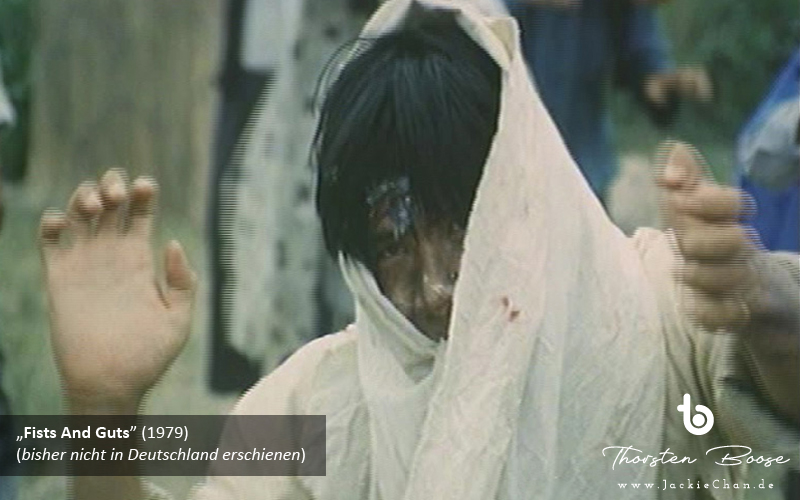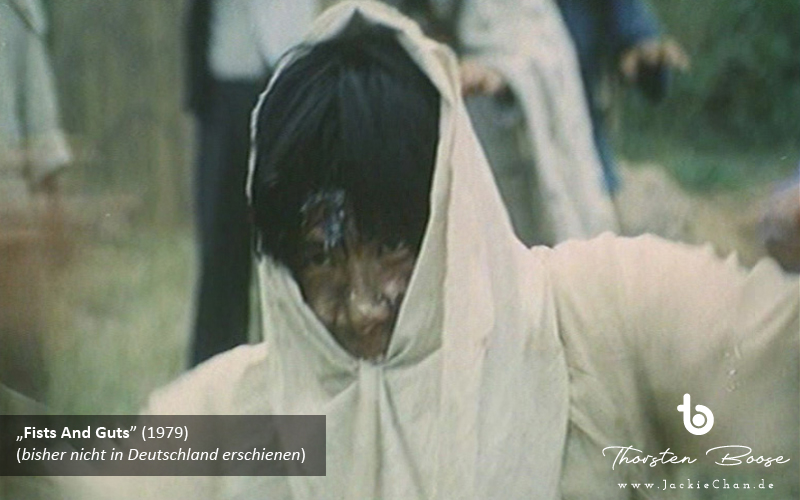 In the following fight sequence you can clearly see that Lam Hak-Ming (again?) has taken over. The movements are not similar to those of Jackie Chan, they are too slow and not fluid enough for that. In addition, Lam Hak-Ming's body is not as toned as Jackie Chan's at the time. At this point the last fight scene from "The Fearless Hyena" (1979) should be mentioned. (s5e1)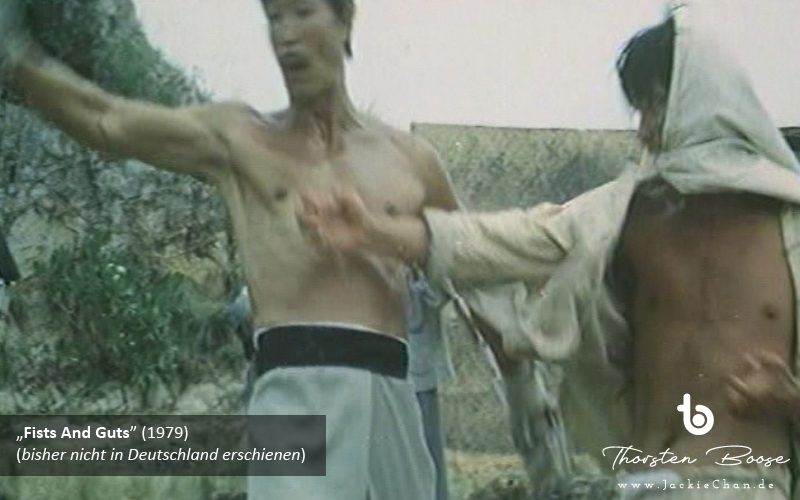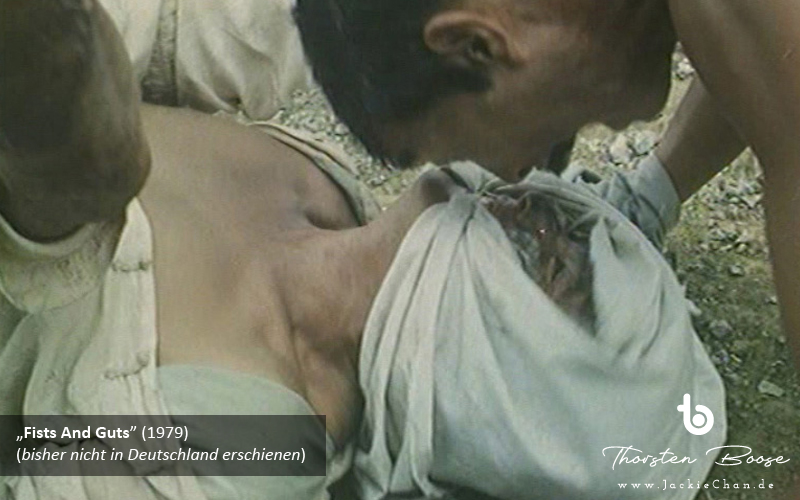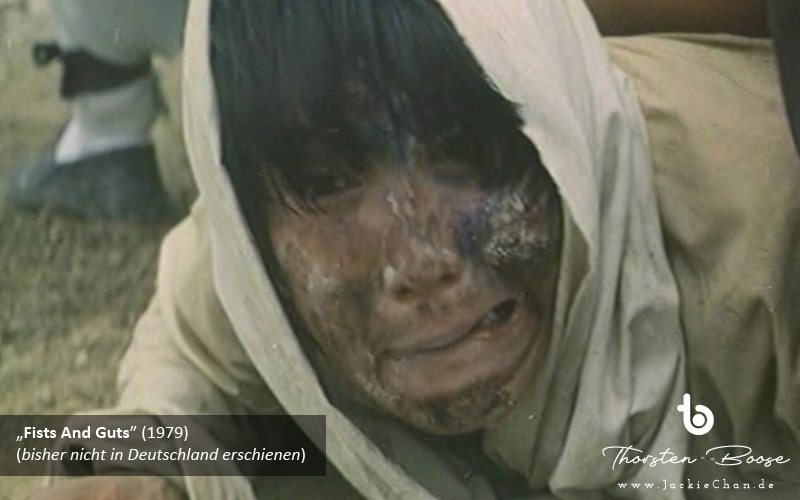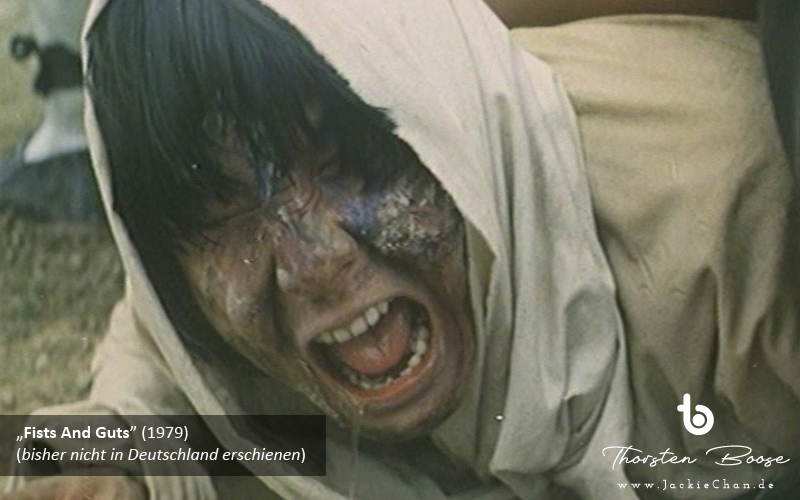 Possible explanation for this cameo
I'm assuming two shoots of this scene that resulted in make-up and costume either renewed or changed. This is nothing unusual for a film shoot, but there is a slight suspicion that Jackie Chan might be under the robe after all, at least in the following settings: (s2e1), (s3e2) and (s2e2).
Would it make sense to film an aspiring film star at the time in one shot without being recognized, without subsequently advertising his collaboration? Was Jackie Chan in 1979 maybe really planned for the role of the leper king and was supposed to attract film fans to the cinema with a new fighting style, which was typical for his films at the time, in order to expand the amazing cast of the film and thus become one of the Lau brothers partners to help them succeed? And was Jackie Chan replaced by Lam Hak-Ming at the last minute, for whatever reason, perhaps out of fear of Lo Wei and his threats? Did Jackie Chan want to audition for the Lau brothers' newly founded film company in order to make a career there, as he did at Seasonal Films before?
These are and will remain speculations. The fact is, a similarity and the different film settings cannot be ignored. As long as there is no official statement on the case, it will remain an "urban legend". When asked by a well-known film critic and cineast, to whom I shared this information in detail, the answer I received was: "I was never interested in whether Jackie Chan ever appeared, and in which small roles. I'm talking about his great achievements." The author of the quote would prefer to remain anonymous.
Also, Ric Meyers does not mention this case with a single syllable in his audio commentary on the English-language DVD release. Enclosed the sequence as a video, please decide yourself.
Conclusion
As already written before, I personally assume two shoots of the scene(s). This is definitely proven by mistakes in continuity, for example in the make-up, clothing and the background of the respective set. But whether there were two different people at work with one being Jackie Chan – I leave that up to the viewer.
Finally, I put a picture online that compares a shot from "Fists And Guts" with a shot from "Dragon Fist" with Jackie Chan. Both films were released in 1979, with "Dragon Fist" being shot in 1978.