Early 1979 interview with Jackie Chan released on Japanese record
Even though Jackie Chan gained experience in front of and behind the camera in Hong Kong cinema at a very early age, it still took a few years for his work to pay off. With the success of "Snake In The Eagle's Shadow" and "Drunken Master" in 1978 and the third in the trio "The Fearless Hyena" from 1979, he suddenly became famous throughout Asia and a desirable interviewee.
It's May 30, 1979, and we're at a press conference in Hong Kong to shed light on the past successes and future plans of the new superstar Jackie Chan. Just a few weeks earlier, his film "The Fearless Hyena" had huge hits at the local box office. The most lucrative Chan film to date, with nearly HK $ 5.5 million in grossing.

Now at the latest, Jackie Chan is not only a star in Hong Kong, but is also being treated as a blockbuster wonder in the media all over Asia. Distributors vie for his films. Only a year earlier, he drew attention to himself with the two of Seasonal Films, the company of Ng See-Yuen: "Snake In The Eagle's Shadow" and "Drunken Master".
Excursus on the backgrounds of Lo Wei/Jackie Chan
At that time, he was still under contract with Lo Wei. But since one flop after the other made the projectors of the cinemas rattle, Lo Wei gave his protégé to the independent film company Seasonal with resignation, which gave Jackie all the freedom he needed and made him a superstar. After completing the loan agreement, Jackie reluctantly returned to Lo Wei and insisted on his right to direct the next film himself.
The success of "The Fearless Hyena" proved him right and prompted Lo Wei to bring a film with Jackie, made in 1978 and not yet released, to theaters in order to swim along on the wave of success. Thus, on April 21, 1979, "Dragon Fist" hit the cinemas and with almost 1 million HK dollar grossing, it was not necessarily another hit for Jackie, but after years of misery it was a financial success for Lo Wei.
In my article "Mysterious Jackie Chan cameo in the film "Fists And Guts" (1979) by director Lau Kar-Wing?" (Click here) I write in more detail about the tense relationship between Jackie Chan and Lo Wei at the time. It is interesting that the following interview falls in the middle of this time. At that point, Jackie could already have made the fatal mistake described in the above article and signed again with Lo Wei and already planned his "escape".
Interview excerpt from May 30, 1979
How do you stay fit?
I don't do much with weights because they like to break the joints and some muscles become too hard and you are no longer as flexible. Never too much, because with too much muscle you can't jump well. I train everywhere, even in the smallest rooms.
How long have you been doing kung fu?
I've been doing kung fu since I was 7 years old.
Did your teacher teach you that?
I had different teachers. One taught me unarmed combat, another taught me how to use sword and spear.
Has your film training at the Peking Opera influenced you?
I think yes, it has. Kung fu and the aesthetics of it, I want to present that to the audience again and again.
About the experience as an actor/performer
Until it comes to a film, I keep learning new techniques. I've learned Aikido, Karate and Judo, and everything is somehow the same, it's just martial arts, but with certain differences. I train very hard.
Jackie Chan's nose
It has been broken three times so far.
Always while filming?
The first time I broke my nose was when I was practicing kung fu. The other two times on the film set, yes.
Was shooting the film that exhausting?
Well, if you have to play "drunk" while filming, there are consequences. There was a scene when I was flying through the air and falling to the ground. Well, there were a lot of wounds at the time.
About stuntmen
I don't like to use stuntmen, I'd rather do everything myself.
About the family
My father was a cook for a long time, until today actually. I haven't seen them [my parents] in a long time, I miss them very much. But since I was little, I haven't really lacked anything. I made some money myself, but my father gave me something on top of that. My father and mother took good care of me. Today, I have money and I want to give it all back somehow.
What do you think defines a real man?
Don't let someone else take over you, do your own things as you want. I think that makes a good man that you do what you believe in. A real man not only has to fight, office workers who go about their business are real men, too.
Is there such a thing, someone who is always free?
There must be a path in life for everyone. I had practiced kung fu for a minute back then and loved it. This is my way. Surely, there is also a way of life for a real man. But one shouldn't look to others.
Typical of this time is what Jackie replies to the question about a man's freedom: You should only trust yourself and not run after anyone. That's exactly what Jackie Chan did when he left Lo Wei shortly afterwards and signed with Golden Harvest. The rest is history.
You can find the whole interview in this video. Unfortunately so far without English or German subtitles. So if you can speak Cantonese and Japanese and would like to help me, feel free to contact me (click here) or submit suitable subtitles directly on YouTube.
Publication of the Chan interview on vinyl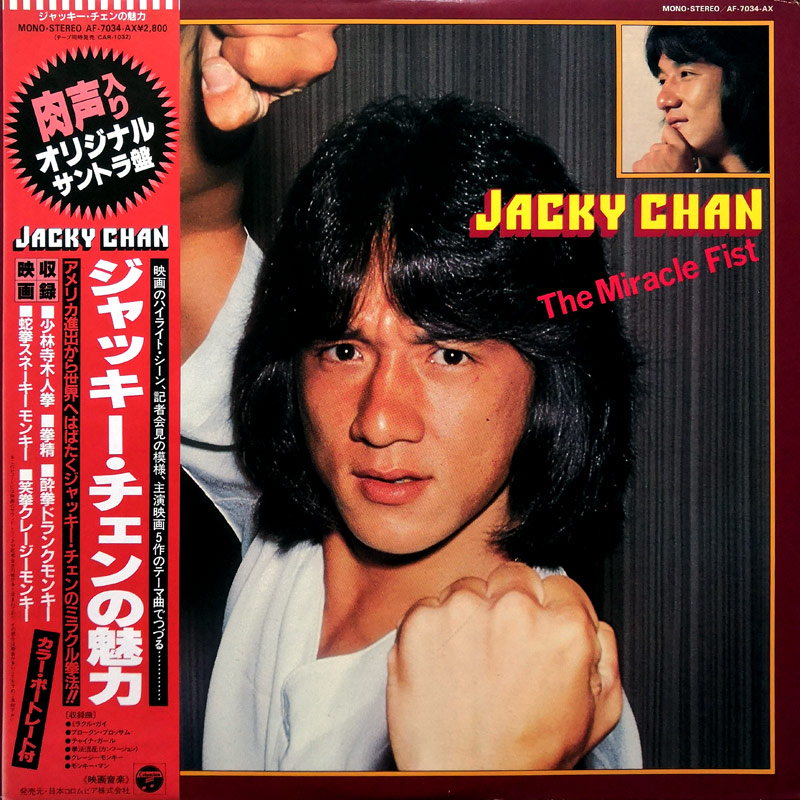 The above excerpt comes from the booklet of the record "The Miracle Fist", a 12-inch long-playing record released by Columbia in February 1981, just in time for the Japanese theatrical release of "Shaolin Wooden Men" (1976). In addition to ten tracks, consisting of songs and film excerpts from the Cantonese version, the LP also includes a mini poster with Jackie Chan.
The music that was placed under the interview is the instrumental version of the song "Broken Blossom" (ブ ロ ー ク ン ・ ブ ロ ッ サ ム), originally sung by Yoshinori Shabana and composed by Takemi Shima and Tetsuji Hayashi
It is no coincidence that the Japanese were so interested in the new superstar that they even pressed this rare material on vinyl. After the success in Hong Kong, Jackie Chan's films were distributed all over Asia – the new, but also the old Lo Wei films. In Japan, the ascent began as follows:
July 21st, 1979: "Drunken Master"
December 12th, 1979: "Snake In The Eagle's Shadow"
April 19th, 1980: "The Fearless Hyena"
June 14th, 1980: "Spiritual Kung Fu"
September 6th, 1980: "The Big Brawl"
February 28th, 1981: "Shaolin Wooden Men"
March 21st, 1981: "The Young Master"
December 26th, 1981: "The Cannonball Run"
In just under two and a half years, eight major films with Jackie Chan were released, which above all broke the hearts of female fans from Japan. In "The Cannonball Run" Jackie even plays a Japanese Mitsubishi driver and even back then had good personal and professional relationships with the managing director of Mitsubishi. To date, Jackie Chan's Japanese fans are the most loyal in the world.
At this point, many thanks to Franziska Li (Yuanshan Li, 李 苑 珊) and Fabian Schweitzer for the translation of parts of the Chinese document.