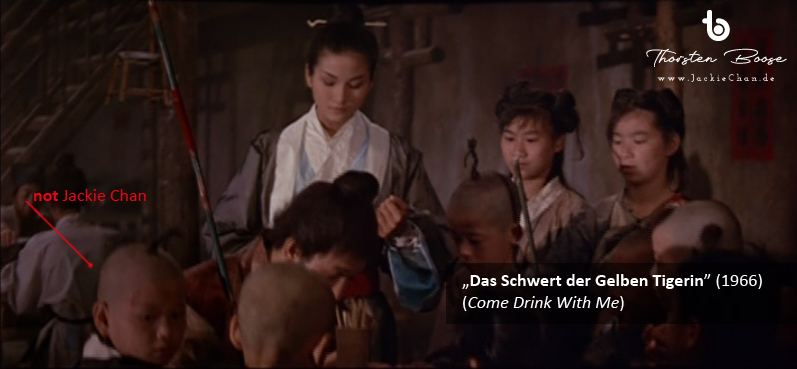 Clarified: Jackie Chan is not in "Come Drink With Me" from 1966
The film list in Jackie Chan's autobiography "I am Jackie Chan: My Life in Action" from 1998 is to date the only officially confirmed list of films on which Jackie Chan has worked in front of and behind the camera (there are occasional contemporary film entries listed on IMDb.com). The list of films on his website www.jackiechan.com contains far less information. Of course, it is hard to believe that this official list contains misinformation, but unfortunately it is true.
In this article, I will summarize that Jackie Chan is not seen in the King Hu classic "Come Drink With Me" (1966) and explain how it came to this misunderstanding and why the rumour persists to this day.
Jackie Chan and "Come Drink With Me" celebrate their birthday at the same time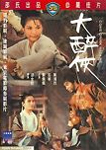 The popular wuxia film by cult director King Hu shows a very young Cheng Pei-pei as the tough leading actress, who disguises herself as a man through her opponents in order to save her brother from captivity. The film premiered in Hong Kong on April 7, 1966. On the same day, Jackie Chan celebrated his twelfth birthday. The two protagonists of this report have nothing more in common.
In the West, the likeable Cheng Pei-pei only became a household name for the masses through her role as Jade Fox in "Tiger and Dragon" (2000) by Ang Lee. With the end of the 1990s, the influence of Hong Kong action cinema began to gain a foothold in Hollywood. This sparked the interest of fans and film critics to research the old days in the Far East. Experts like Ric Meyers and Bey Logan took on the topic.
Bey Logan interviews the actors
For the Hong Kong DVD of "Come Drink With Me" being released in December 2002, Bey Logan produced an audio commentary in English for distributor Celestial Pictures. He was accompanied in the studio by Cheng Pei-pei and her daughter Marsha Yuen.
Bey Logan, born on November 15, 1961, in Stamford, Great Britain, is a film critic, filmmaker and actor and has worked closely with the greats of Hong Kong cinema since the 1980s and therefore has insider knowledge that he likes to share in documentaries. His contacts in 1999 led to the eponymous DVD label "Hong Kong Legends", which made over 100 Hong Kong cinema films available to the English-speaking West. This pioneering work is also the basis for the Dragon Edition published by Splendid Film in Germany, which equips popular Jackie Chan films on Blu-ray with bonus material.
In the audio commentary on the DVD, Bey Logan steers the conversation in the direction relevant to us in minute 28:45. Here is the wording I transcripted:
BEY LOGAN: I was trying to make out who was who. They tell me that Jackie is in this film but I can't see him.

CHENG PEI-PEI: No, no, no. Jackie is not in it.

BEY LOGAN: He was older than [the boys].

CHENG PEI-PEI: He is younger [than the boys].

BEY LOGAN: Oh, you mean, he's too young to be in the movie?

CHENG PEI-PEI: No… I think… That time you had two different groups. This group is from Tang Di.

Short pause because Mars is in the frame and Bey Logan is explaining how he got his nickname.

BEY LOGAN: What you were talking about, that was Chat Siu Fuk [Seven Little Fortunes] with sifu Yu Jim-yuen. And on the other side it was Madame Fan Fok-Fa, the one you played in "Painted Faces". And this is Fan Fok-Fa's team.

CHENG PEI-PEI: No, no, no. That's another one.

BEY LOGAN: Oh, this is another one?

CHENG PEI-PEI: Yeah, Tang Di's.

BEY LOGAN: Oh, Tang Ji, who was the student of Yuen Siu-tien in the opera…

CHENG PEI-PEI: Tang Di.

BEY LOGAN: Oh, Tang Di! Not Tang Chia [Cantonese name of the actor Tang Ji], different person.

CHENG PEI-PEI: Yeah, different person.
Confusing, huh? A small retrospective of the Beijing opera schools in Hong Kong provides information on who is meant.
The Beijing opera schools in Hong Kong
The Peking opera is a classical stage art form from China, which tells acting, singing, music and acrobatics in mystical Chinese stories using elaborate face painting and costumes. There were two major schools in Hong Kong in the 1950s and 1960s that taught this dying art form. Cheng Pei-pei briefly addressed these schools in her commentary.
The China Drama Academy
Master Yu Jim-yuen primarily taught his students the northern style of kung fu. They gave performances in the nearby Lai Chi Kok amusement park in Kowloon. His most famous students were Sammo Hung, Jackie Chan, Yuen Biao, Corey Yuen, Yuen Wah, Yuen Tak, Yuen Mo and many more.
Particularly talented pupils were allowed to call themselves members of the group Seven Little Fortunes (Chat Siu Fuk), which was advertised in the amusement park and often loaned out for film work. The members of the group changed from time to time.
The Spring and Autumn Drama School
Madame Fan Fok-Fa, China's first martial arts actress, ran this school. The "Spring and Autumn" school was considered a rival to Yu Jim-yuen's China Drama Academy. Madame Fan Fok-Fa also maintained contacts in the film industry and hired some of her students out to production companies. The most famous of them are Lam Ching-ying, Chin Kar-lok, Chan Lung, Chung Fat, Mars, Meng Hoi, Fung Hak-on and many more.
Mars and Fung Hak-on later became part of Sing Ga Ban, Jackie Chan's famous stunt team that just celebrated its 40th anniversary. Chin Kar-lok went to Hung Ga Ban, Sammo Hung's stunt team.
Both schools felt compelled to lend their students more often to film production companies for a fee. Because the number of visitors to the classic Peking opera fell rapidly. The art form was just out of date. In the course of the following years, former rival students became a group of die-hard artists who all laid the foundations for a new Hong Kong action cinema. Their paths should cross over decades.
Photo gallery: unknown boy or Jackie Chan?
If the statement by Cheng Pei-pei and Bey Logan is not proof enough that Jackie Chan did not appear in "Come Drink With Me", you should just take a closer look at the film. The following photo comparisons will help.
Many sources claim the marked boy below as Jackie Chan.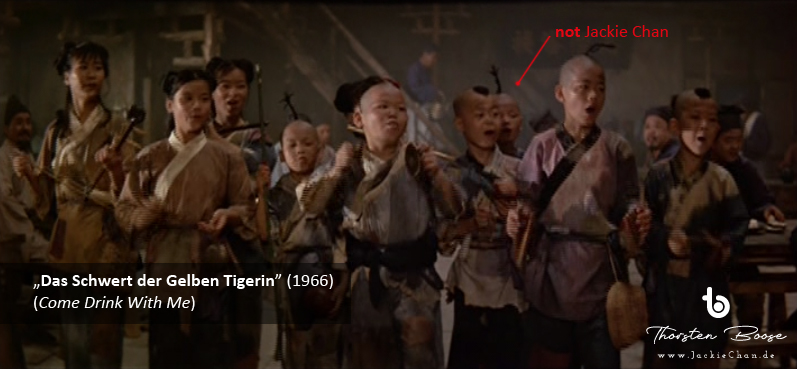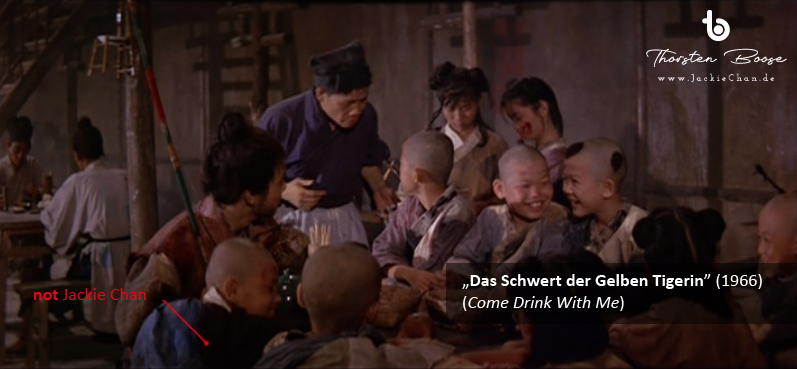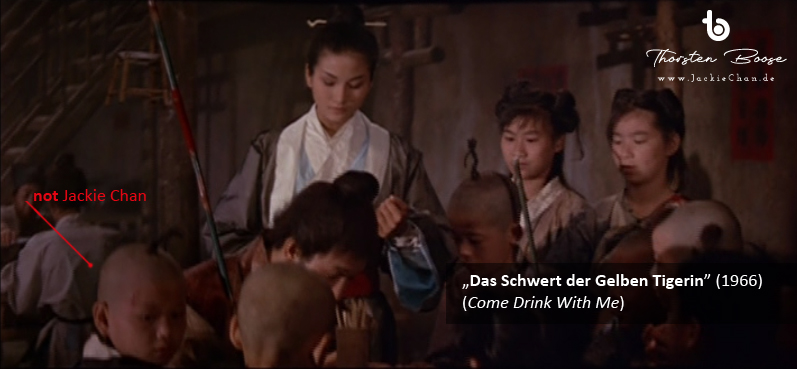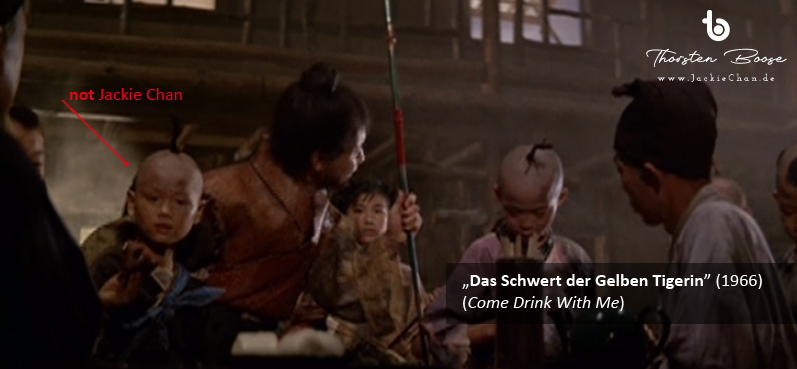 At first glance, you should see huge differences in the physics of the person depicted.
This is now Jackie Chan in the movie "The Eighteen Darts (Part I)", which came out at the same time as "Come Drink With Me" (1966).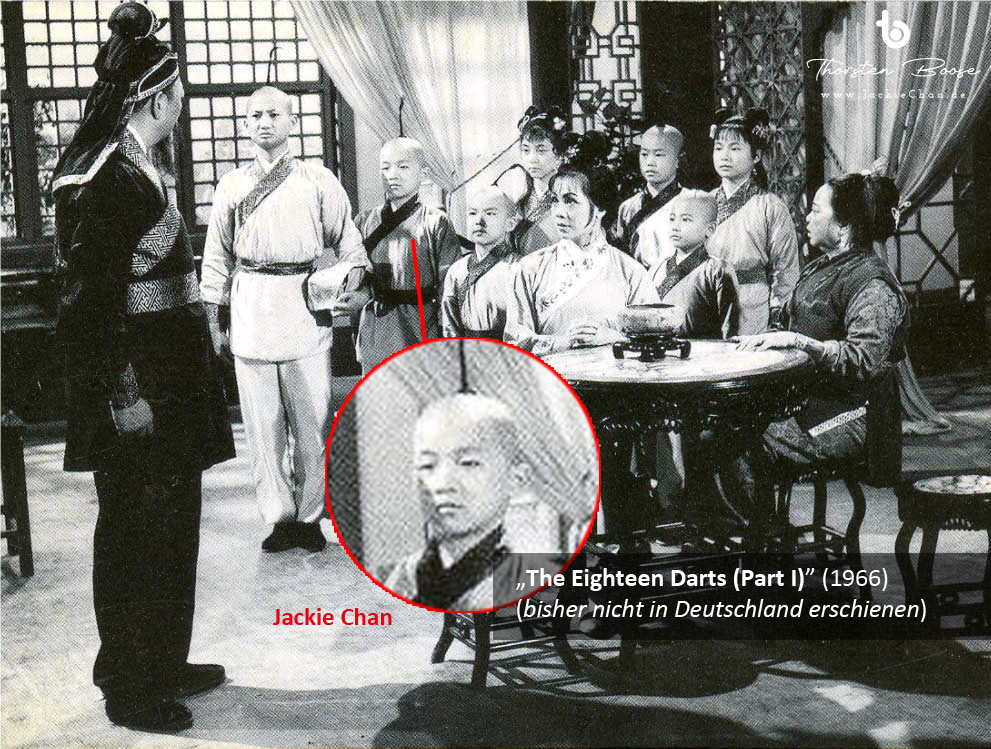 The only thing that both people have in common is the typical hairstyle of a pigtail. If we now compare the two recordings side by side, the differences become clear. To clarify, I have added one more picture from the 1964 film "The Story of Qin Xiang-Lian".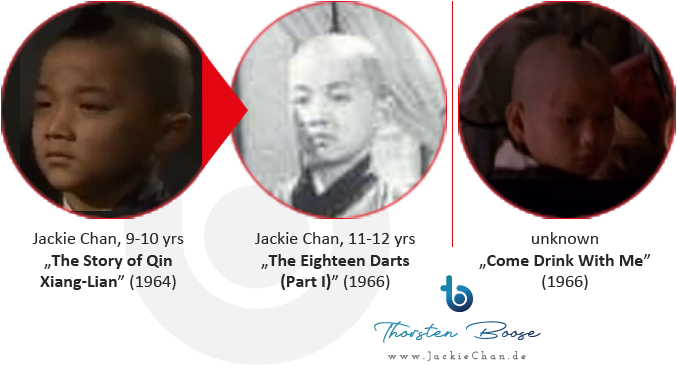 Even if the quality of the old films is not the best – the perspective has been approximated as closely as possible – we recognize the following:
Jackie Chan has a rather narrow face > the unknown boy is round and taller
Jackie Chan's head is round, has a protruding back of the head > the marked persons all have a flatter back of the head
Jackie Chan's nose is wide, especially on the nostrils, his trademark > the unknown boy's nose looks small and cute compared to his round face
Jackie Chan's ear shape is clearly recognizable, its longitudinal axis is much flatter than that of the marked boy, whose ears are not only larger, but also less pointed
Jackie Chan's eye and eyebrow area is more distinctive
The skin tone can hardly be compared in the old photos, but the hairline is different
No statement from Jackie Chan so far
Unfortunately, Jackie Chan is no longer questioned about his old films. Years ago there were even instructions from his advisors that reporters should only talk about current topics. One consequence of this was the shortening of the official filmography on its website; the children's roles and many other productions no longer find a place there.
But fans still have hope: In 2018, there will be a new documentary officially produced by Jackie Chan about his life and work over the past four decades. "Jackie Chan: Down to Earth" is the title of the film and suggests that it is not about the star, but rather about the humble young and aspiring man who has to assert himself in the world.
So where did the persistent rumor come from?
A valid question that goes back to the starting point: Jackie's autobiography. In turbulent times, Jackie Chan has to remember dozens of films in which he only had a small part. There is no mention of stunt work, acting or even production. We're talking about a few seconds or a few minutes of screen presence that could be filmed in one day. At that time, Jackie Chan was still a "full-time" student at the China Drama Academy.
In my opinion, this is just a classic mix-up. Because Jackie Chan really played in a movie with Cheng Pei-pei from that era. The film is called "Lady of Steel" (1970). It premiered in Hong Kong on February 27, and the filming took place in the old decade, 1969. At the time, Jackie Chan was just 15 years old and, one should recall, still a student at the China Drama Academy.
So, what are four years of difference in a film career that at the time of the research, namely in 1998, had lasted over 30 years and over 100 films? To err is human, and while Jackie Chan's productivity may argue against it, he's also human and makes mistakes. Not to forget that Jeff Yang, the co-author of the autobiography, was also responsible for the research.
"Lady of Steel" wasn't rediscovered until years after the autobiography's publication in 2007 and released on DVD and SVCD by Celestial Pictures. Previously there was only one Taiwanese video cassette from the 90s in full screen.
And now guess what the scene with Jackie Chan looked like there! It can be seen in the right section of the picture – or not.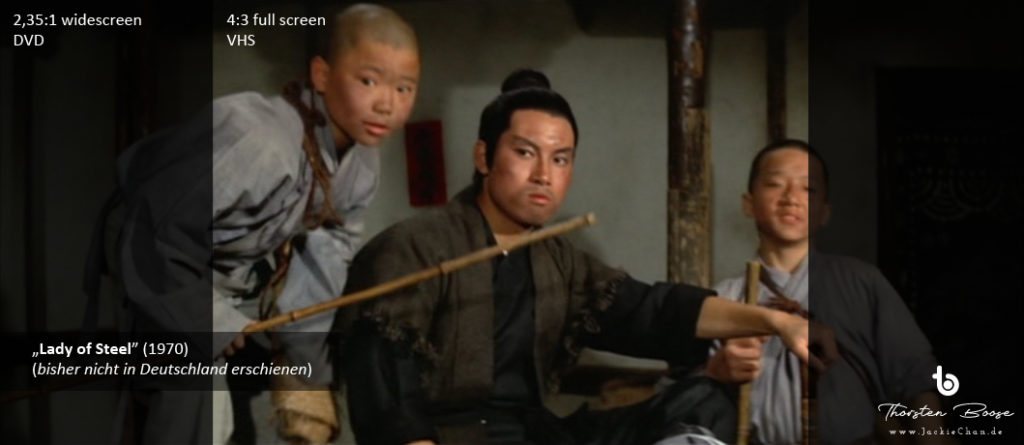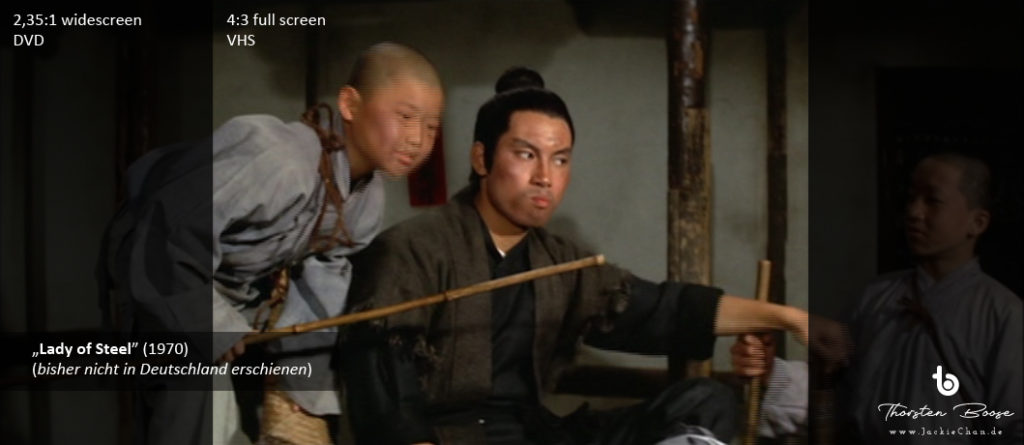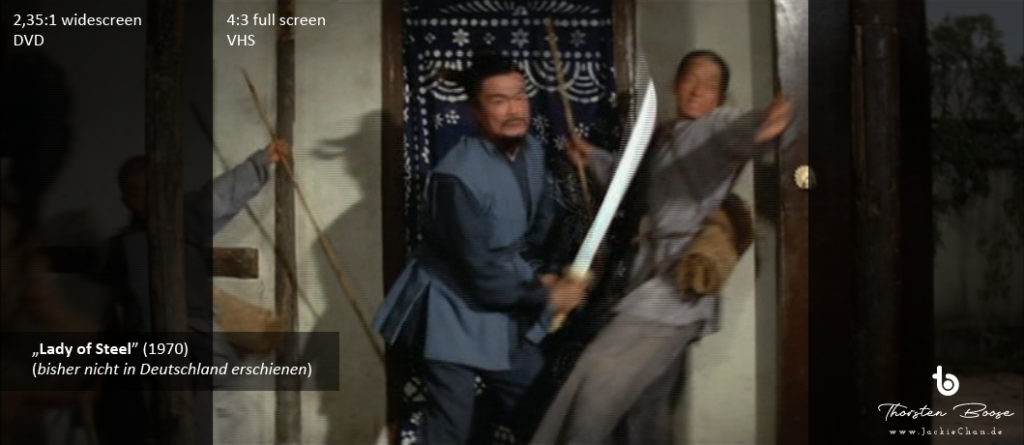 This scene lasts a few seconds, the cuts are made relatively quickly. A cropped picture in hectic motion in lousy VHS quality quickly contributes to the fact that Jackie Chan is not immediately recognized here.
Distributors have to show more initiative!
The distributors sell their products better when it says JACKIE CHAN. This scam has been around the world for Chan products and films since the early 1980s. It remains to be seen whether this was and is done consciously or unknowingly; I am deliberately not assuming anything here. In any case, too often sources are not questioned, and so misinformation gets around the globe and nestles in a filmography.
Information must be traced back to the source and questioned there. Wikipedia is not a source. In my opinion, even IMDb.com may only serve to a limited extent as a source of information about films, because the system is not really easy to maintain. This is where the professionals are in demand. Mike Leeder, Ric Meyers, Bey Logan, the distributors themselves who have the contacts. Make more of the beloved fan projects, the potential and knowledge is there!
Conclusion
This article wasn't about exposing a Jackie Chan or robbing fans of an illusion. But on the contrary. Like my predecessors and colleagues Mike Leeder, Ric Meyers and Bey Logan, I am interested in clarification and important background information.
It's not a tragedy at all that Jackie Chan doesn't appear on "Come Drink With Me". After all, we see a very young Mars who gave us many great hours in Jackie's career. Jackie's appearance in "Lady of Steel" is also worth seeing. The German distributors should finally dare to try this film, too!
A classic may have been removed from Jackie Chan's filmography over the years, but another classic has been added. A fair exchange. Or not?