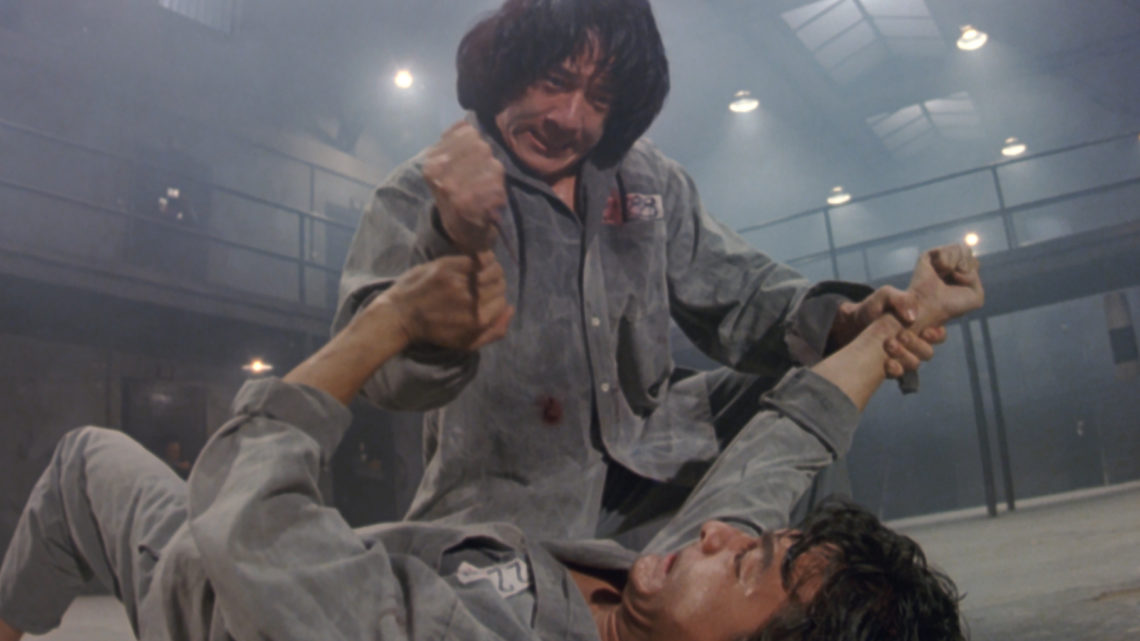 Jackie Chan's "The Prisoner" uncut in Germany for the first time
There are a few film pearls in Jackie Chan's movie career that would be ideal for a TV show like #SchleFaZ. I'm thinking primarily of "Fantasy Mission Force" from 1983. In this film, Jackie only has one prominent side appearance, which he shows off again here in "The Prisoner" as a favour for the famous one-armed swordsman Jimmy Wang Yu.
History: Jackie Chan & Jimmy Wang Yu
Already in 1976, they both stood in front of the camera in the cheap production "The Killer Meteors" by director Lo Wei. Jackie Chan is seen here in an unusual role as a villain, while Jimmy Wang Yu fights for justice. This is no coincidence, Jimmy Wang Yu, a Taiwanese actor, had already become a star in the late 1960s with his role as the one-armed swordsman. After Bruce Lee's death in 1973, the Hong Kong film industry was desperately looking for a successor – cult director Lo Wei found him in Jackie Chan and wanted to make him a star. "The Killer Meteors" was one of the earliest Lo Wei/Jackie Chan films and resulted in nothing but frustration.
More cheap productions followed for the once so successful director and discoverer of the modern Bruce Lee. In 1978, Jackie Chan broke the collar and they agreed on a deal with the film studio Seasonal Films: Lo Wei's rising star was loaned for two films. The result was "Snake in the Eagle's Shadow" and "Drunken Master". Jackie became a star overnight, but had to make more films for Lo Wei according to the contract.
In order not to break the neck of his new fame, his then manager and best friend, Willie Chan (unrelated), and the successful film studio Golden Harvest asked Taiwanese actor Jimmy Wang Yu for help. Jimmy Wang Yu was said to have relationships with the triads, the Chinese mafia, which could never be confirmed, but also never refuted. After "tough negotiations" Jackie Chan was released from the Lo Wei contract and worked for Golden Harvest from then on. The rest is movie history – but Jackie Chan had to pay off his debt to Jimmy Wang Yu.
This first happened in 1983 in the so-called Mo Lei Tau film (Hong Kong Nonsense Comedy) "Fantasy Mission Force" with Jimmy Wang Yu. Seven years later, in 1990, Jackie Chan was to work again for Jimmy Wang Yu, in the film "The Prisoner" or "Island of Fire". The film was shot in just 42 days from April 5 to May 17, 1989. To this day, this film remains the last collaboration between Jimmy Wang Yu and Jackie Chan, so that Jackie's debts from then have been paid off.
"The Prisoner" no longer banned in Germany!
When "The Prisoner" was published on video in March 1992 in Germany, it had great impact thanks to the Jackie Chan brand. But a year later, distribution was banned across Germany with indexing. Only on May 9, 2014, the indexing was cancelled upon request (!). Unfortunately, the film did not find its place in the successful Dragon Edition of Splendid Film and one can only guess why. The rights went to Koch Media, and they will finally publish "The Prisoner" on Blu-ray in real HD.
The 2-Disc Special Edition Blu-ray contains the uncut German film version in HD, now FSK 16, as well as the Taiwanese long version, which is about 30 minutes longer! Unfortunately, this is only available in a bad SD image, but a milestone for all Jackie Chan fans.
Incidentally, "The Prisoner" comes out on the same day as "Kung Fu Yoga" (2017) in Germany (read more here); Jackie Chan's latest film "The Foreigner" with Pierce Brosnan will premiere worldwide on this day.
---
Jackie Chan – The Prisoner
EAN: 4020628813796
Release date: Sep. 28th, 2017 (Blu-ray, DVD)
FSK: 16
adventure / action / thriller | action
Year of production: 1991
Duration: ca. 125 mins. (Taiwan cut)
Bonus features: Taiwan cut, soundtrack, trailer, still image gallery
Source: Koch Media GmbH