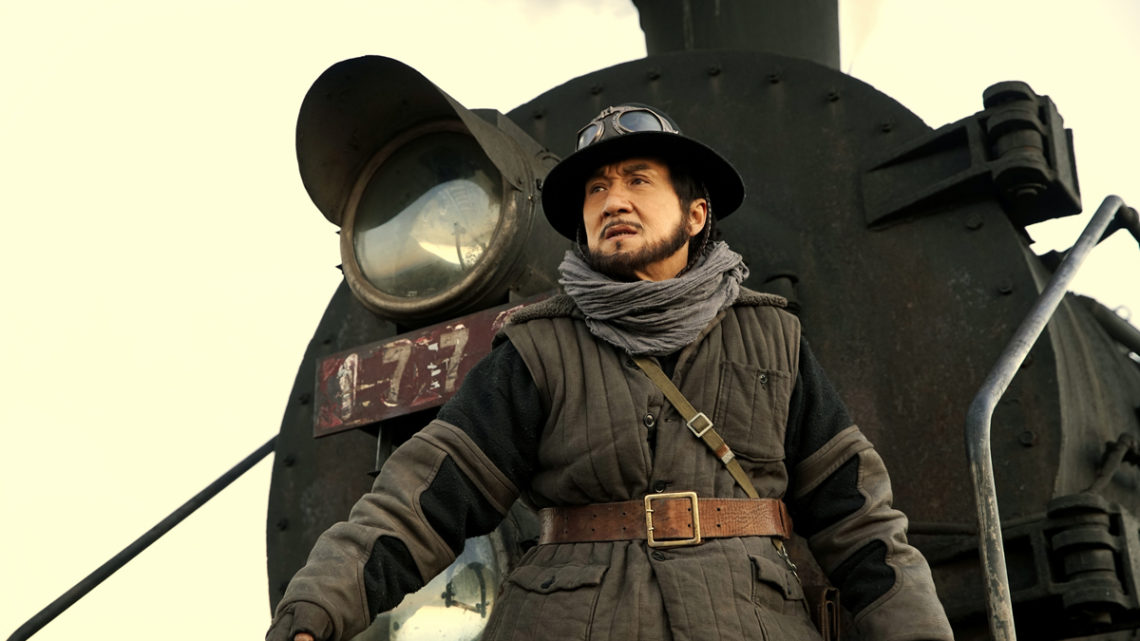 Jackie Chan's "Railroad Tigers" is back at Koch Media again
It's not quite as dramatic as described in the teaser, of course. Koch Media and Splendid Film are competitors, but they are anything but enemies. After all, competition is good for business, and the one who's benefited from it in recent years is you, the fans of the kung-fu film legend Jackie Chan.
With "The Prisoner" an important gap in the classics has been filled, but 2017 is a very productive year for Jackie Chan. And so Koch Media was also awarded the contract for its new action comedy "Kung Fu Yoga". But that's not all, Koch Media wants more and has secured the rights to the successful hit movie "Railroad Tigers", which appeared a few months earlier and grossed 100 million dollars so far, making it one of the most successful Chan films.
Director Ding Sheng put together a fantastic cast, including Jackie Chan's son Jaycee Chan. The film tells the story of rebellious railroad workers in China who ambush Japanese freight trains to provide their people with food. Things only get complicated when they get the job of robbing an ammunition truck.
Even if the cover says "Reminiscent of the best Indiana Jones times", it has been a real Jackie Chan for a long time now who has made the film a blockbuster. In any case, we German fans are happy about the timely release including bonus material and, above all, that this film keeps the original title in German.
# # # EXCURSUS # # #

History of Splendid Films' Jackie Chan versions

Splendid Film has been doing a good job at least since the first Masterpiece Edition on DVD in 2001 when it comes to distributing German-language Jackie Chan films. Even if these were initially heavily cut in length and often also in image format, the first wave of digitization was an indication that the German-speaking market is far from being saturated with Chan. The second Masterpiece Edition followed in 2002 and soon afterwards, namely in 2004, the first uncut publications in the aesthetic Collector's Edition. Soon afterwards, further uncut films were released sporadically and under no coherent topic until the Blu-ray wave spilled over to Germany.

Splendid Film wanted to come up with something trend-setting for this new medium, as was already exemplified in Great Britain at the end of the 90s by the Hong Kong Legends label: a new Jackie Chan film collection with the uncut versions, deleted scenes, outtakes/NGs, making ofs, interviews and everything in original sound. The Cologne label applied for the deletion of various films banned by the Spio/FSK and clarified the rights to material from Hong Kong Legends. The result is the best researched and compiled film collection by Jackie Chan on Blu-ray, the Dragon Edition.

On January 31, 1993, a film was added to the index for glorification of violence, prohibition of purchase. The decision to delete it from the list was made on May 9, 2014, after Splendid Film had submitted the application. This is the 1991 film "The Prisoner" in which Jackie Chan has a supporting role. Not a typical Chan, but still worth seeing. But this film is not in the current Dragon Edition of Splendid Film; instead, competitor Koch Media is now releasing it on DVD and Blu-ray. What has happened there? (read more here)

So far, I can only speculate and assume that Splendid Film was running out of time and possibly running out of money to redesign the entire range including labels, flyers, covers, online marketing, etc. for a single latecomer. Instead, the rights were safely sold to Koch Media. I will be in touch with the two distributors again about this. Until then, we're just enjoying the re-release of "The Prisoner", also known as "Island of Fire".

# # # # # # # # #
---
Railroad Tigers
EAN: 4020628777623
Release date: Nov. 23rd, 2017 (Blu-ray, DVD)
FSK: 16
adventure/ action / thriller | action comedy
Year of production: 2016
Duration: ca. 124 mins.
Bonus features: making of (approx. 21 minutes), several BTS (approx. 12 minutes), teaser, trailer
Source: Koch Media GmbH
---