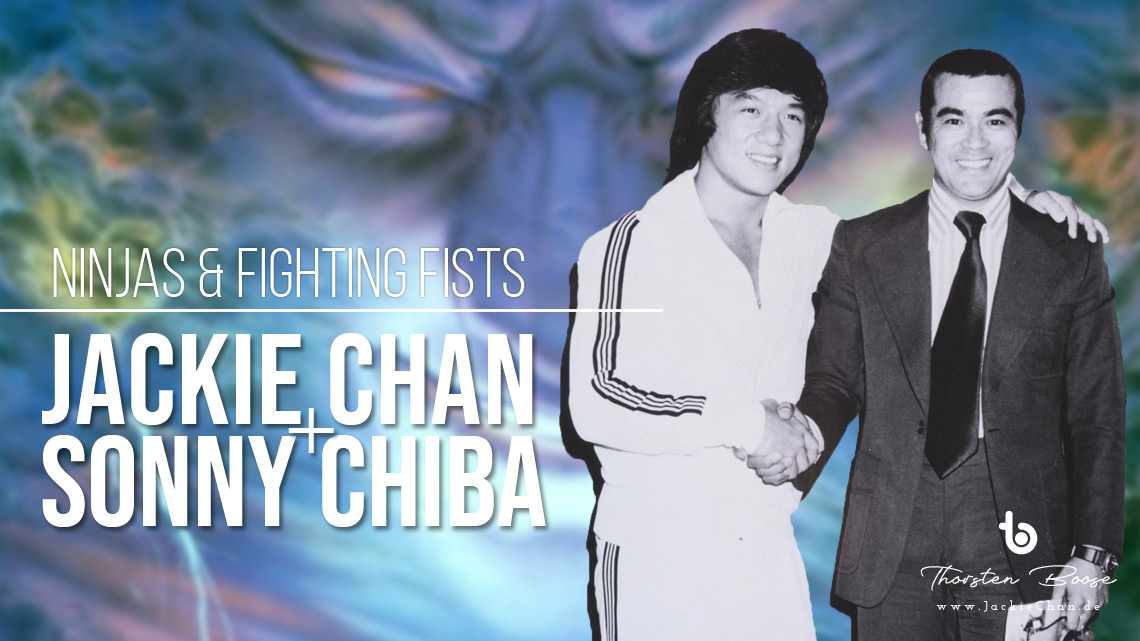 Ninjas & Fighting Fists: Sonny Chiba and Jackie Chan together in one film?
Only a few photos exist of Sonny Chiba and Jackie Chan together. What has connected the Japanese "Street Fighter" actor and the Hong Kong "happy go lucky" star for decades, however, is a persistent rumour of a joint film: "Ninja Wars" (1982).
Sonny Chiba, actually Shin'ichi Chiba (千葉 真一), was born on 22 January 1939 in Japan (deceased 19.08.2021 ibid.) and made famous by his "Street Fighter" film series in the 1970s. Exceptional director Quentin Tarantino was so enthusiastic about his work that he hired him as Hattori Hanzo in his two "Kill Bill" films. In 1982, Sonny Chiba made an appearance in the Japanese fantasy epic "Ninja Wars", which doesn't rank high in his filmography but has been rumoured since the 1990s. Apart from the truly visually stunning ninja film, none other than Jackie Chan himself is said to have worked with Sonny Chiba in this film.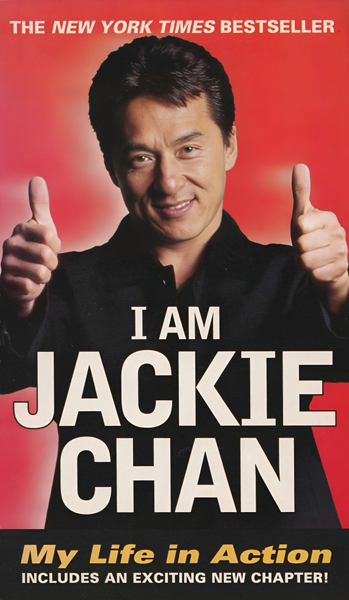 Now before you stop reading and go see the film, you most likely won't find Chan. This is despite the fact that Jackie Chan writes about it "personally" in his autobiography "Jackie Chan – My Life In Action" from 1998:
"I have only a cameo here, but did it because I wanted to work with Japanese martial artist Sonny Chiba, who starred in the popular Street Fighter series of the 1970s."
A cameo, i.e. a guest appearance, actually lives from the fact that you recognise the guest actor; exceptions are, for example, "hidden cameos", i.e. hidden guest appearances, as in the "Star Wars" universe. Thus, thanks to popular names, a film can be marketed better and attracts more viewers to the cinemas. But in the case of "Ninja Wars" (1982), there is no Jackie Chan to be seen in the entire movie. There have been a few theories about this in the past within the online fan community, of which I would like to mention only two here:
Jackie Chan had been cut from the international version.
Jackie Chan played one of the masked ninjas.
The fact is that Jackie Chan does not appear in the credits of "Ninja Wars" (1982) – but neither does Sonny Chiba. And he is clearly visible. So was Chan cut out of scenes? From an artistic point of view, that might make sense if those scenes didn't advance the story and the makers actually had the guts to cut the Hong Kong star of the time from a film starring his idol Chiba.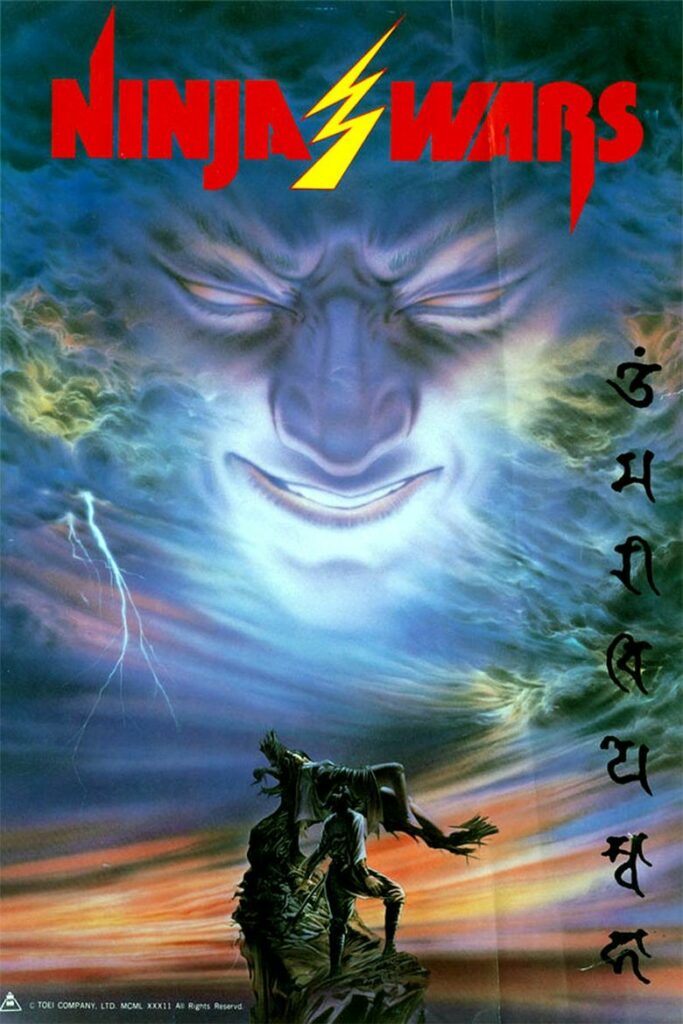 Meanwhile, the flick, which is worth a viewing in my opinion, is available in various releases worldwide and so far no deleted scenes featuring Jackie Chan have been discovered. And an "uncredited" actor does not mean a rumour at the same time.
Actors often act out of favour and are contractually uncredited, for example to avoid drawing attention to themselves in trade unions – but this is probably more true in strictly regulated Hollywood than in 1980s Japan.
The second theory of the masked ninja seems even less verifiable. One has to ask the question why Jackie Chan should have done this. By the time "Ninja Wars" (1982) came out, "Dragon Lord" (1982) was long out of all cinemas and Jackie Chan was already heavily involved with "Project A" (1983). He was under contract with Golden Harvest, and if an offer with Sonny Chiba in Japan had fluttered in, Raymond Chow and Willie Chan would surely have made sure the whole world knew about it.
However, the idea of a masked cameo by Chan is not that new, because that is exactly what he had done in the 1977 Taiwanese kung fu film "The Face Behind The Mask" by friend and colleague Chen Chi-Hwa. Here he did Chen Chi-Hwa a risky favour and stood in for the masked fighter in the film, although both knew that he was contractually bound to Lo Wei.
I was, am and will be Jackie Chan
So what's the deal with the entry of "Ninja Wars" (1982) in Jackie Chan's 1998 autobiography, if we assume that he and Sonny Chiba were not in front of the camera together at the time? I see two logical possibilities here:
They got the title wrong.
It is simply a mistake.
To err is human and therefore the second point can be explained absolutely logically. Especially if you look at the genesis of Jackie's autobiography. In the mid-1990s, he signed with the US agency William Morris, which concentrated on marketing Jackie Chan in the USA and throughout the West. Not only were older Chan films re-dubbed and brought to US cinemas, but they also wanted to send him on a reading and interview tour with his life story in book form.
"I Am Jackie Chan – My Life In Action", released in the summer of 1998, was written with co-author Jeff Yang, whose son Hudson Yang (b. 2003) later launched his own acting career with the hit sitcom "Fresh Off The Boat" (2015-2020) alongside Randall Park and Constance Wu. Papa Jeff Yang was only 29/30 years young at the start of work on the book with Jackie Chan and had to really hurry up!
Only a few personal meetings with Jackie Chan were on his schedule, because Jackie had to devote himself to his film career. But in order to give Yang enough information to write an entertaining book, manager Willie Chan handed the young author tons of pre-written material. Certainly, during the conversations and the horrendous exchange of information, there were sometimes misunderstandings.
---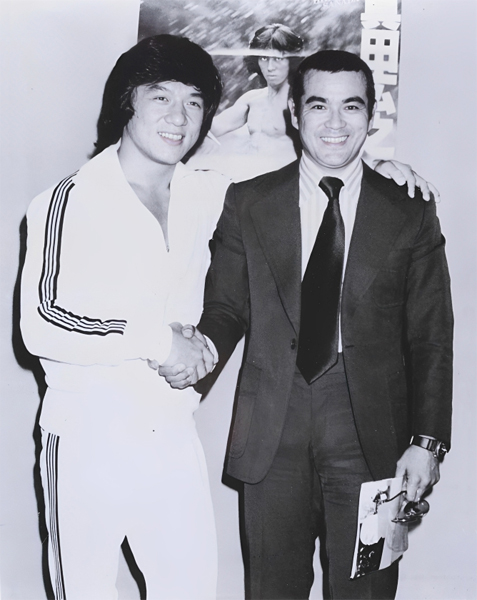 ---
I assume this because in all the years before there was no word of a joint film with Jackie Chan and Sonny Chiba. But where did Willie Chan's prefabricated documents about his protégé come from? Many fans today don't know that Jackie had a strong fan base around the world even before his international breakthrough with "Rush Hour" (1998). In Hong Kong, of course, but especially in Japan.
In Japan, Jackie's hit films "Snake In The Eagle's Shadow" (1978), "Drunken Master" (1978), "The Fearless Hyena" (1979) and "The Young Master" (1980) were released one after the other from 1979 onwards and by 1981 he was already a megastar in the Land of the Rising Sun – especially for female fans. Manager Willie Chan and his studio bosses Raymond Chow and Leonard Ho knew about the income they could make on the Japanese market, so they had Jackie Chan learn some Japanese without further ado to please the girls there and regularly invited photographers and reporters to Hong Kong.
One of Jackie's favourite photographers was Sumio Uchiyama, Uchi for short, who accompanied him on his travels for many years and illustrated several fan books for Chan. And this is where it gets exciting, because already in 1984, at the age of just 30, Jackie Chan published his very first autobiography exclusively in Japan! The title: "Love You, Pao Pao" (愛してポーポー).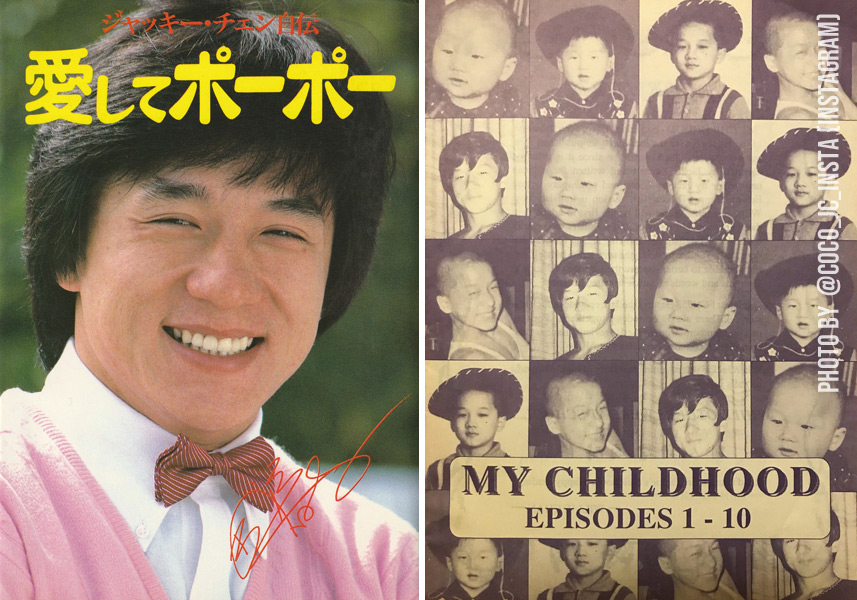 Two years earlier, in 1982, the International Jackie Chan Fan Club was founded in Hong Kong, which, thanks to the hype in Japan, published bilingual fan magazines several times a year; in Japanese and English. International interest grew, even Germany had its own official representation of the fan club by 1982. And the fans wanted to read stories. This is where marketing genius Willie Chan came in.
Together with his team he wrote down a standard work about Jackie Chan, which from then on was not only published in the fan club magazine, but also in international newspapers, TV documentaries, interview requests and finally in Jackie's official second autobiography from 1998. The basic work was called "My Childhood" and told the story of a young Jackie Chan's life in ten episodes. Later, this story was reprinted again in Screen Power issues, with the official permission of the JC Group, for fans of the next generation. It is the basis for Jackie Chan's "I Am Jackie Chan – My Life In Action".
Now, one might assume that the film "Ninja Wars" (1982) is mentioned somewhere in the book "Love You, Pao Pao" (1984). There is indeed a section in the book with current events and a film list*. Neither "Ninja Wars" (1982) nor a possible collaboration with Sonny Chiba appears there. In none of the fan club issues of the time is there even a hint that these two film legends would have worked together. And that would have been a real sensation, considering the reach in the Japanese market.
And yes, I have all the fan club magazines in my possession (except the dubious #1, which was actually just a letter).
*Note: I haven't translated the whole book yet. So anyone who knows better, maybe even Japanese fans, please correct me here. Thanks a lot!
1982 or 1992?
But if it wasn't a mistake and they just got the title wrong, we fans and historians have been looking in the wrong place for years. In fact, an author of the Japanese Wikipedia wants to know that there is another film with Sonny Chiba and Jackie Chan.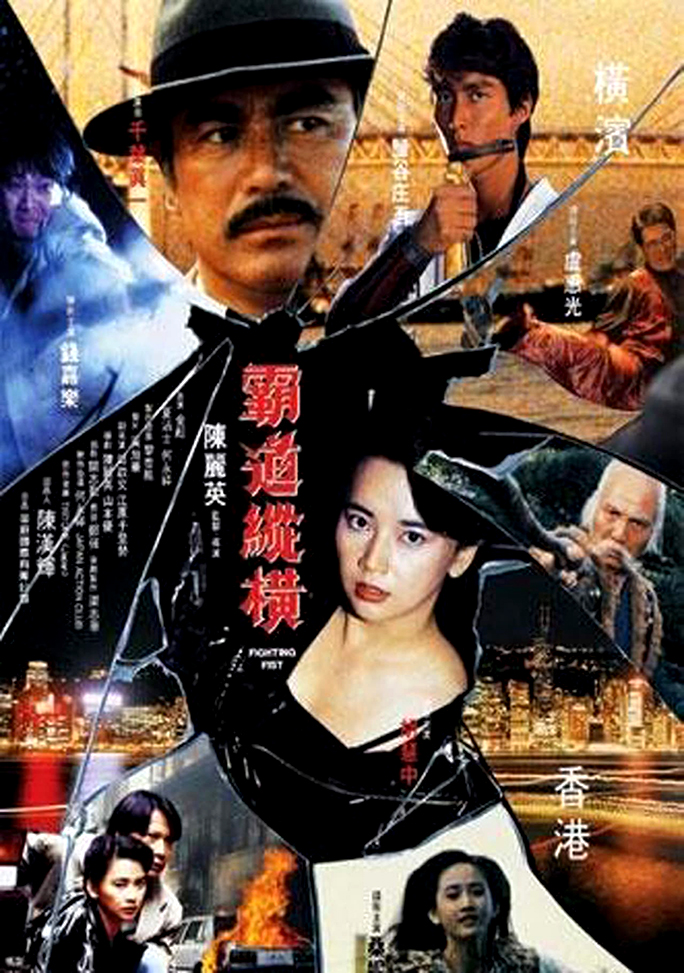 It is called "Fighting Fist" and dates from 1992. The film also goes under the aliases "Lady Cop In Fury" and "Bully". The original title in Hong Kong is "霸道縱構". In Japan, it was released as "Haken" (HAKEN 覇拳/振り向けば修羅) only on VHS. And here's where it gets interesting, quote Wikipedia:
"VHS release only in Japan. In the Japanese version of the trailer, Jackie pays a courtesy visit to the shooting site and chats with Shinichi Chiba and others."
(Original text: "日本ではVHS発売のみ。日本版予告編において、ジャッキーが撮影現場に表敬訪問し、千葉真一らと歓談する姿が紹介されている。")
Jackie is listed here as an uncredited martial arts choreographer ((original text: 武術指導(アンクレジット) ).
As is so often the case, Wikipedia does not provide a source. So far I have searched in vain for a Japanese trailer of the film. Maybe the fan collective will have more luck. Who can say something about it? Do you have the Japanese tape at home or even the Japanese trailer in which Jackie is supposed to appear?
It's not far-fetched, as the film was shot in Hong Kong with then very famous people like Sibelle Hu, Chin Ka-Lok and Ken Lo. This would still mean that Sonny Chiba and Jackie Chan have never appeared in a film together, but the mystery of the strange "Ninja Wars" entry would at least be solved. And how quickly does 1992 become 1982…?!
If anyone has more information, please contact me. Until then, I recommend a film review of "Fighting Fist" (1992) by Paul Bramhall on City on Fire (click here).