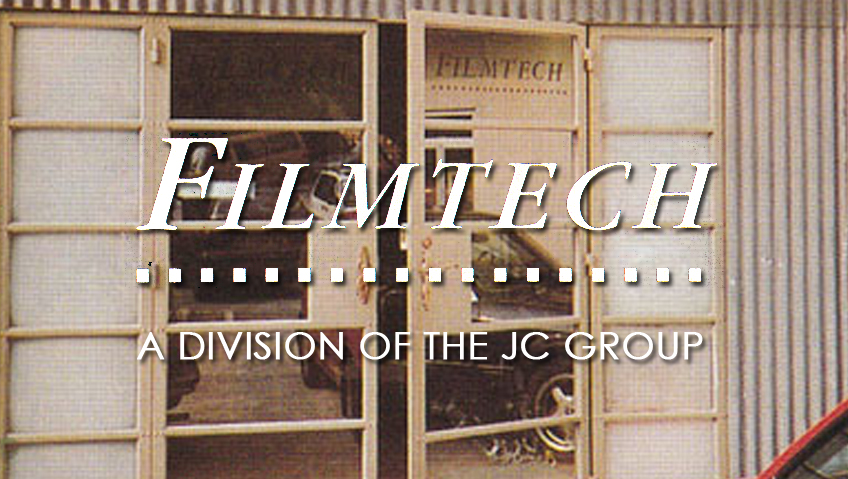 Filmtech – Jackie Chan's forgotten film equipment rental company (UPDATED)
When I started work on my text "Jackie Chan, a trademark designed to succeed" for the 88 films release of one of my favourite Jackie Chan films "Armour Of God" in the spring of 2021, I knew that the article would be exorbitantly long and detailed and that I would have to open and close a site that had remained hidden for decades: Jackie's film equipment rental company.
Enclosed I have taken a small part of my text from the 88 films booklet and brought it up to date. The film list will be updated as soon as a new Filmtech film can be found. You are welcome to send me hints about Filmtech films anytime.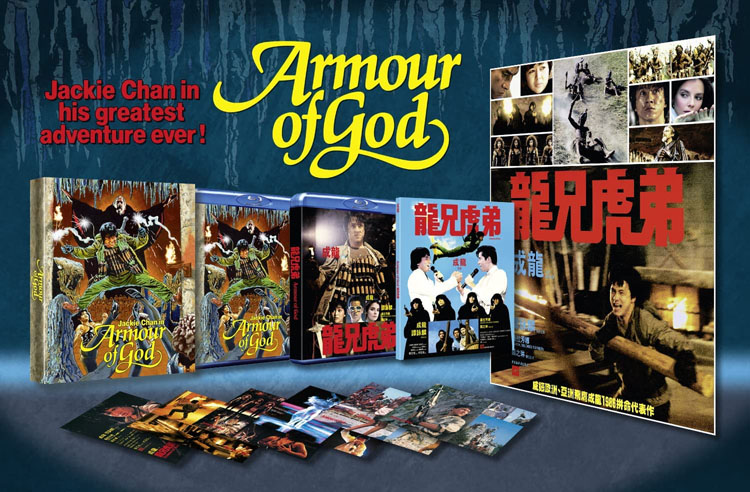 After Jackie Chan proved to himself and the world with "Miracles" (1989) that he can not only be a good actor and action superstar, but also a serious film director who knows how to use light and camera equipment for dynamic images, he slowly but surely got banned from this profession by Golden Harvest. His directorial work on the subsequent film "Armour Of God II – Operation Condor" (1991) was to be his last for the time being because it exceeded the budget by far and, thanks to the hot temperatures in the Sahara desert, also wore out expensive technology.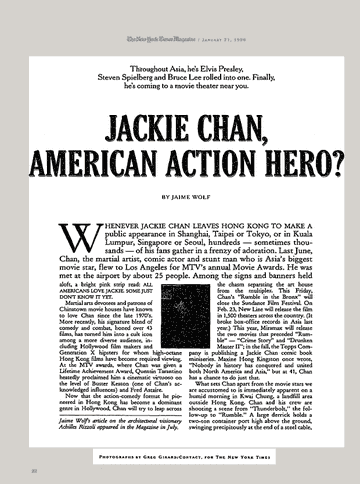 Perhaps that was just one reason why Jackie set up a rental company for lighting and camera equipment as well as for film props in Hong Kong – his own movies had to be financed. Or as the New York Times stated in its newspaper edition from January 21, 1996: "The next building over houses Filmtech, an equipment-rental company he started as an excuse to buy himself the latest high-tech camera gear."
Of course, Golden Harvest kept financing their protégé with their new strategy of using cooperative directors such as Wong Jing (王晶), Kirk Wong Chi-Keung (黃志強) and Lau Kar-Leung (劉家良) for new Chan vehicles in order to stick to the budget and, on the other hand, to have more Jackie Chan films ringing the box office each year. But Jackie's technical affinity led him to accumulate an excess of camera and lighting equipment during the 1980s and 1990s that wanted to be used.
Three divisions of Filmtech
The company Filmtech (also written as FILMTECH, Film Tech or FilmTech in some credits) had three divisions: Filmtech Camera Services, Filmtech Lighting Services and Filmtech Props Services. It's possible that it was led separately from Golden Harvest and Golden Way since it was still active after both corporations had ended their business. Nevertheless, the building was standing on the Golden Harvest lot in Hong Kong. Since too little has been reported about this field of activity in the past decades, there is still no complete list of all films supported by Filmtech and its branches.
But before we get to the films supported by Filmtech, here are some very rare photos and key data. Please click on the image to enlarge: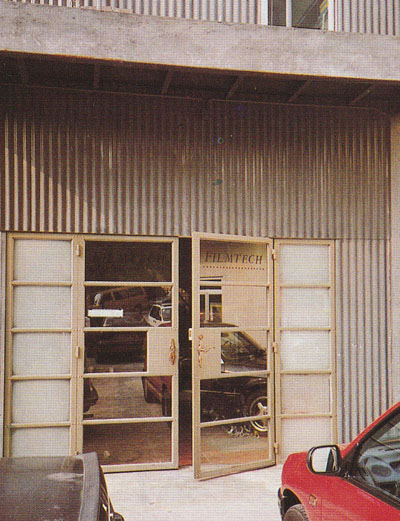 One thing in advance: There are hardly any reliable documents on the history of Filmtech that one could refer to as certain. It is therefore quite possible that minor errors will be found in the following descriptions or that they will only be discovered over time. It is my endeavour to reproduce the history without errors, so please help me to close gaps in my knowledge or point them out to me.
On 14 May 1991, the new Jackie Chan company called Filmtech saw the light of day in Hong Kong under the registered name Filmtech (Films Production) Limited. The first film with Filmtech support was demonstrably released a few months earlier (see film list below). After these initial experiences, the company probably wanted to go official and break new business ground with its first proper international production, "Hong Kong Dream".
On 15 April 1992, the company was renamed Filmtech Construction Services Limited, shifting the focus from film production to film equipment rental. The registration number is 0309684 and the status is still registered today – more on this later. Following this formal restructuring, the three known sub-divisions were then registered in Hong Kong.
Filmtech Camera Services Limited
Incorporated: 21.04.1992
Registration number: 0353992 (HK)
Status: still active
Filmtech Props Services Limited
Incorporated: 04.06.1992
Registration number: 0360437 (HK)
Status: dissolved
Deregistration date: 21.12.2018 (application filed: 02.08.2018).
Filmtech Lighting Services Limited
Incorporated: 14.07.1992
Registration number: 0232661 (HK)
Status: still active
Note: Acquired the former company "Colorful Scene Company Limited" with incorporation date of 11/11/1988.
German technology in Hong Kong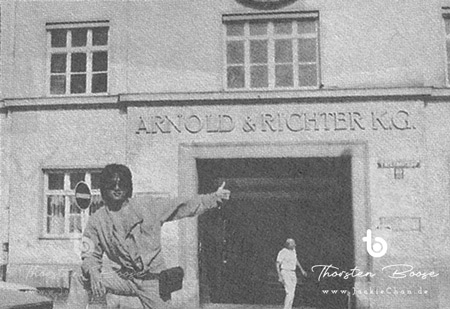 Those who are interested in films from the technical side will probably be familiar with Arriflex. These camera types have been available for decades for 16 mm, 35 mm and also 70 mm. The two German school friends August Arnold and Robert Richter founded their company Arnold & Richter, today known as ARRI, on 12 September 1917.
I will tell this exciting story of German inventiveness and marketing in more detail elsewhere. For Filmtech, it gets interesting when Jackie Chan and his friend and manager Willie Chan travelled together to ARRI's headquarters in Munich as early as 1984 to be inspired by the high-end technology there.
Also thanks to his experiences on the set of "The Protector" (1985), Jackie Chan became familiar with expensive camera equipment, which he immediately fell in love with. Many photos from the set in New York show the Hong Kong filmmaker actively at the camera even back then. In issue 15 of his International Fan Club magazine, he writes at the end of 1984:
"As it is, being the equipment-maniac that I am, I have already bought about HK$ 100,000/= worth of new lenses in New York this time!"
And just a few months earlier, he declares his love for three things he spends a lot of money on: his films, his cars and his cameras.
Filmtech today
In February 2021, changes to the personnel of Filmtech Lighting Services Limited were registered (company director, secretary), which resulted in an application for cancellation in July of the same year. Nevertheless, the company continues to submit annual tax returns to this day. Is the company now operating under different personnel? And what does this mean for Filmtech Construction Services Limited?
It is interesting to note that Filmtech Construction Services Limited is still registered today and only its props department has been closed – twelve years after its last known activity. Yet, on 21 May 2012, one finds evidence of the company's deletion after it stopped making an annual return from 2007.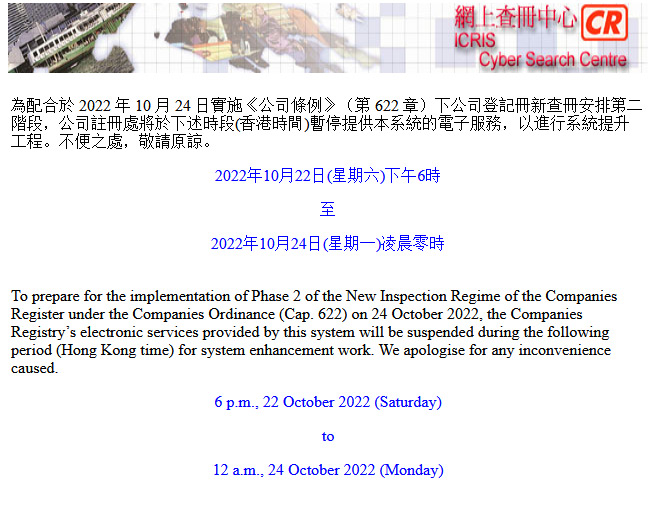 So is Jackie Chan still shooting with his Filmtech cameras and lights to this day, or is there simply too little data in the registry? Currently, massive official restructuring and digitisation measures in China are causing temporary failures or loss of access to databases (https://www.icris.cr.gov.hk/down.html).
If you go into more detail at this point, you will see that Filmtech is or was part of the JC Group. However, I will explain this company structure elsewhere, it would go too far here. Finally, after the following extensive list of films, there is some data on the term "Filmtech".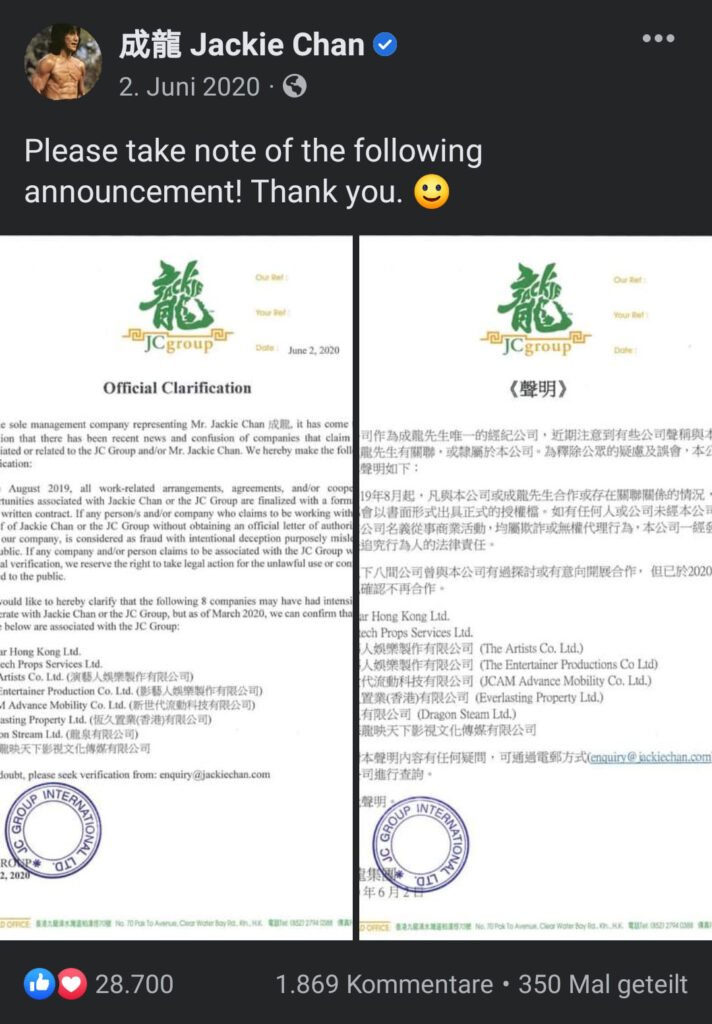 The question of whether Filmtech founder Jackie Chan is still actively involved in the company today and whether the company contributes to Jackie Chan films in any way can be demonstrably answered in the negative. Because already on 2 June 2020, the JC Group let share an official statement in Chinese and English that said:
"We would like to hereby clarify that the following 8 companies may have had intensions to cooperate with Jackie Chan or the JC Group, but as of March 2020, we can confirm that none of the below are associated with the JC Group:"
Facebook post from 2 June 2020 (source)
---
Film List: Jackie Chan's Filmtech
The first list of Filmtech titles written by me in the booklet for the 88 films release of "Armour Of God" was already numerous, but since then I have been able to track down more films. This prompted me to quickly and easily make this updated article available to the public with a detailed list of films.
Please note that the attached list does not insist on completeness and can always be updated as soon as new Filmtech films can be found. So, again, feel free to help.
It's also worth mentioning – and with this I take up a paragraph from further up – that the first movie produced with Filmtech equipment and having Jackie Chan in a leading role is the above-mentioned "Armour Of God II – Operation Condor" (1991) which was in production for almost two years. The last two films are "New Police Story" (2004) and "Rob-B-Hood" (2006) which were equipped with props (mostly pistols, guns, ammunition, office equipment). Even in the credits for Hollywood blockbuster "Rush Hour" (1998), Filmtech is mentioned and thanked by name.
The following list is in chronological order and contains all film titles in which the Filmtech company was demonstrably represented by at least one of its departments (Props, Camera, Lighting).
Release date = First release date ever worldwide


(more logo variants will follow soon)
Armour Of God II – Operation Condor (飛鷹計劃)
Release date: 7 February 1991
After the most expensive film back then for Golden Harvest under Jackie Chan's direction, he was temporarily banned from directing. All his equipment, cameras, lighting and props were integrated into Filmtech Services Ltd. and from then on used profitably for his own and third-party productions. By the way, did the Eurodance group 2 Unlimited borrow the tribal dance from the film for their tribal edit of the song "The Real Thing"?
Listen for yourself:
Hong Kong Dream (ホンコン・ドリーム―私の愛した日本人―)
Release date: 30 July 1991
This Japanese TV film shows Maggie Cheung's acting qualities in a drama that was only broadcast on the NHK channel. After consultation with the broadcaster, no new broadcasts are planned and no further information can be found in the archive. Standard answer for "It's too much trouble for us". I'll stay tuned!
The Twin Dragons (雙龍會)
Release date: 15 January 1992
For all those who always wanted to know and were never sure: Maggie Cheung does not sing herself in the film. She sings playback to Shriley Kwan's "In Ancient Times" (地老天荒).
Police Story III – Super Cop (警察故事III超級警察)
Release date: 4 July 1992
"Police Story 3" was such a big shoot that in addition to Filmtech's equipment, Salon Films had to step in. And all the equipment had to travel far, from Hong Kong to China (mainland) and to Malaysia.
The Moon Warriors (戰神傳說)
Release date: 19 December 1992
In this great late Wu Xia film, the cast around Andy Lau, Anita Mui, Kenny Bee, Maggie Cheung and many more shine under the direction of Sammo Hung. Filmtech is mentioned in the credits with its Camera Division.
Raped By An Angel (香港奇案之強姦)
Release date: 27 May 1993
Also known as "Naked Killer 2", the enchanting Chingmy Yau once again shows what a femme fatale is in Hong Kong cinema. The fight choreography is made by Nicky Li, a member of the third generation of the Jackie Chan stunt team since "Project A II".
Crime Story (重案組)
Release date: 24 June 1993
A very serious action drama for which Jackie Chan won the Best Actor Award at the 1994 Hong Kong Film Awards. The film has many alternative titles: "That Beast In Homicide", "The Beast Inspector", "New Police Story".
Future Cops (超級學校霸王)
Release date: 15 July 1993
The best "Street Fighter" film adaptation in the world was penned by Wong Jing. In a short scene, Richard Ng, one of the "Five Lucky Stars", sings the song "Twinkle twinkle little Star".
Project S (超級計劃)
Release date: 21 October 1993
In Germany, the trailer was titled "Once A Cop", later the distributor decided on "Mega Cop", because after super comes mega, right? "Project S" is also called "Supercop 2", but is not a sequel to last year's action hit, but rather acts as a spin-off of the series.
Finale In Blood (大鬧廣昌隆)
Release date: 6 November 1993
The film was probably shot in 1991, or at least that's what the copyright of Paragon Films suggests. Filmtech is listed in the credits under "scenery". It is possible that the film was shot on the Filmtech premises or that buildings from their repertoire were used.
Obsession (妒火焚情)
Release date: 12 November 1993
The credit for this "Cat III" strip is: Equipment by Filmtech Camera Services Ltd. The fight and stunt choreographer was Australian martial artist and actor Mike Miller, who was involved in many Hong Kong movie productions (and Jackie Chan films) in the 1990s.
Ghost Lantern (人皮燈籠)
Release date: 27 November 1993
Wong Jing also borrowed cameras from Filmtech for this ghost film. The film was directed by Andrew Lau and stars Tony Leung Ka-Fai and Chingmy Yau in a romantic and creepy love story that only Wong Jing can tell.
The Underground Banker (香港奇案之吸血貴利王)
Release date: 22 January 1994
Wong Jing again borrowed equipment from Jackies Filmtech for this film by Bosco Lam under the action choreography of Bruce Law. In this category 3 film (CAT III), the psychotic Anthony Wong shows what goes on in the underground.
Drunken Master II (醉拳II)
Release date: 3 February 1994
The first and only film co-produced by the Hong Kong Stuntman Association (香港武協製作有限公司), the film was made precisely to strengthen the association, which was founded on 24 March 1992. Filmtech supported the production.
Hong Kong Adam's Family (奸人世家)
Release date: 26 March 1994
Another triad film by Bosco Lam, this time category 2 (CAT II). Filmed in 1992, it was released two years later, when Hong Kong had already switched from ADR to sync sound thanks to Jackie Chan's "Supercop" (1992) – not for all films, of course.
A Chinese Torture Chamber Story (滿清十大酷刑)
Release date: 19 May 1994
And once again Bosco Lam directs a CAT-III shocker for Wong Jing, which explains the ten most popular torture methods of the Ching dynasty in disturbing and aesthetic images. Even the US-American "Ghost" (1990) with Patrick Swayze and Demi Moore gets its due here in typical Wong Jing style.
Modern Romance (戀愛的天空)
Release date: 30 June 1994
One might think that Wong Jing was negotiating a fixed contract for Filmtech equipment with his Wong Jing's Workshop Ltd. (王晶創作室有限公司) – maybe that really was the case – because Jackie's rental company was also involved for this romantic comedy about four young women and the adversities of love life in 1990s Hong Kong.
To Live And Die In Tsimshatsui (新邊緣人)
Release date: 13 August 1994
The success of the crime genre was really exploited in the 90s, here "Little Jackie", the pet name of Jacky Cheung, who was under contract with Jackie and Willie Chan's talent agency at the time, was allowed to take the lead role. In one scene, two guys at the fair stand in front of distorted mirrors as one says "Look, I'm Sammo Hung" and the other replies "Then I'm Jackie Chan".
Sex And The Emperor (滿清禁宮奇案)
Release date: 13 October 1994
When syphilitic genitals and bloody S&M scenes are on display, it's a real CAT III film from Hong Kong. Sherman Wong shoots shocking rape scenes through the lenses of Filmtech.
Rumble In The Bronx (紅番區)
Release date: 21 January 1995
In April 1994, suitable locations were first sought in the USA and then in Canada for the film, which had the working title "The Wild Zone" (紅番區). The cameras were provided by Filmtech for Golden Harvest.
Thunderbolt (霹靂火)
Release date: 5 August 1995
The film is probably in the upper range of the list "had the most directors and assistant directors". Sammo Hung had a turn in his unit, then Jackie Chan for his and finally Frankie Chan for the car scenes. However, Gordon Chan was in charge of "Thunderbolt" (1995) as a whole.
The Day That Doesn't Exist (二月三十)
Release date: 9 November 1995
When the action comedies "Naughty Boys" (1986) and "The Inspector Wears Skirts" (1988), produced by Jackie Chan's film company Golden Way, were released in the 1980s, some ignorant reporters rumoured that Wellson Chin, director of both, was actually Jackie Chan and that he was only working under a pseudonym. Jackie had many names in film credits but never Wellson Chin, who did borrow cameras and lighting from Filmtech.
Red Zone (爆炸令)
Release date: 1December 1995
"Red Zone" (1995) is an underrated, little-known action flick starring Ken Lo. The only film to date directed by story genius Edward Tang himself, it is the last film made by Jackie Chan's film company Golden Way. Edward Tang was largely responsible for the success of Jackie's films in the 80s, not only writing many of his blockbusters, but also being a founding member of the Golden Way Creative Group (威禾創作組), an association of writers who took down Jackie Chan's ideas and turned them into malleable scenes and stories.
First Strike (警察故事4之簡單任務)
Release date: 10 February 1996
What is known internationally as "First Strike" was even given the alternative title "Final Project" in Japan. Well, what now? The fourth part of the "Police Story" series entered the race with a few working titles, including "A Simple Mission", "The Story of C.I.A. – Golden Dragons" and "Police Story IV – Piece Of Cake".
July 13th (七月十三之龍婆)
Release date: 25 April 1996
Another film directed by Jackie Chan under his pseudonym Wellson Chin. Of course not! Wellson Chin looks back on a successful career of his own, feel free to read it up. Here again with Filmtech equipment and working as a producer for Media Asia.
Once Upon A Time In Triad Society 2 (去吧!渣Fit人兵團)
Release date: 6 September 1996
A quite successful CAT-IIB film by an independent company, which illuminates everyday life in the Hong Kong triads. It was in the cinemas for almost three weeks – I wonder if the triads helped. We remember the protests of the Hong Kong film people two years earlier. Filmtech supplied equipment again.
The Peeping Tom (赤足驚魂)
Release date: 21 March 1997
Another CAT III film of the adult action genre. Filmtech is mentioned separately here with the camera and lighting departments in the credits.
First Love Unlimited (初戀無限Touch!)
Release date: 27 March 1997
Filmtech also went all out for this romantic comedy. Gigi Leung, Daniel Chan and Ricky Hui play their hearts out in a shallow comedy. Watch out for other familiar faces who were to play important roles later in Jackie Chan's career.
24 Hrs Ghost Story (猛鬼通宵陪住你)
Release date: 24 April 1997
Wellson Chin again, this time for the production company Everwide (HK) Ltd., which has only this film in its filmography. Wong Jing acted as one of the producers, Golden Harvest as distributor, Filmtech again provided the equipment. They just knew each other in Hong Kong.
Tamagotchi (四月四日)
Release date: 15 November 1997
In his second film for 1997, Wellson Chin again uses the ghost genre. Probably both films were shot back to back with Filmtech equipment, because at that time Jackie Chan was already preparing other blockbusters.
Who Am I? (我是誰)
Release date: 17 January 1998
"What chalana yo-hoo, what chalana yo-ha!" Or what are they actually singing at the beginning of the "Who Am I?" theme? Originally, according to the book "Inside The Dragon", the film was simply to be called "Safari". Production started on 14 April 1997, and Filmtech was also on board.
Young and Dangerous 5 (98古惑仔之龍爭虎鬥)
Release date: 22 January 1998
The famous "Young and Dangerous" series goes into the fifth round with support from Filmtech in terms of equipment. If you haven't seen the films yet, you should urgently do so. Nicky Li, a member of the Jackie Chan stunt team, choreographed the action here together with Chin Ka-Lok, a member of the Sammo Hung stunt team.
F***/Off (亞李、爸爸兩個大盜)
Release date: 28 Fabruary 1998
The film with the exhilarating title robs the viewer of magic in one scene when one of the actors explains in a lethargic monologue that there are no Jackie Chans in real life. But Big Brother Jackie was happy to provide the independent production with camera equipment again.
Young and Dangerous: The Prequel (新古惑仔之少年激鬥篇)
Release date: 5 June 1998
Nicky Li was also responsible for the action in the sixth part of the "Young and Dangerous" series, this time alone. His employer Jackie Chan once again lent equipment for the film shoot.
Rush Hour
Release date: 18 September 1998
According to various sources, Martin Lawrence was the first choice for Agent James Carter, but he had trouble with the law. Chow Yun-Fat was also given a first, much more serious draft of the script. To what extent Filmtech was involved in this Hollywood production is not entirely clear, but the company and the team are thanked in the credits.
Enter The Eagles (渾身是膽)
Release date: 1 October 1998
What Bruce Lee's "Enter The Dragon" (1973) was, Shannon Lee's "Enter The Eagles" was to become. Golden Harvest hired the best: Corey Yuen Kwai as director, Yuen Tak as choreographer and a full international cast. The film was not really a hit with 3.5 million HK dollars at the box office. Shannon Lee made a tribute to her father, watch it and think of "The Way Of The Dragon".
Gorgeous (玻璃樽)
Release date: 6 February 1999
With what felt like 20 credits for Jackie Chan, this then very surprising romantic action piece gave us a classic that, in my opinion, has aged very well. Did Jackie here secretly take revenge on Wong Jing's "High Risk" (1995) with Jet Li and Jacky Cheung, the film that takes Jackie for a ride? Because an alternative title of "Gorgeous" is "High Risk". Take that, Wong Jing, but keep smiling!
Jackie Chan: My Stunts (成龍的特技)
Release date: 30 March 1999
This documentary is probably the closest thing to a documentary about Filmtech itself. Filmtech provides the equipment for the documentary about Jackie Chan's stunt work, the tricks of the trade of filmmaking.
Street Kids Violence (三五成群)
Release date: 11 June 1999
Another triad flick from the late nineties by Wellson Chin, which focuses on Hong Kong's up-and-coming gangsters. Thanks to CAT III, however, the teens were never allowed to see the film back then. The message at the end of the film is clearly directed at parents and teachers: More education at home and at school about violence and its effects. Very brutal film.
Gen-X Cops (特警新人類)
Release date: 18 June 1999
Here, for once, Filmtech's props department is mentioned in the credits. Over the decades, Filmtech accumulated a huge amount of firearms, ammunition and office props, some of which are used here.
Believe It Or Not (七月又十四之信不信由你)
Release date: 20 August 1999
And likewise, Wellson Chin made a film for the popular Hong Kong ghost genre in the late nineties. The film looks like it escaped CAT-III certification by a hair. StarEast is mentioned in the credits.
The Mistress (迷失森林)
Release date: 11 November 1999
Crystal Kwok, who made her first film appearance as Jackie's assistant in "Dragons Forever" (1988), wrote and directed this CAT III film. For years, no one would support her vision, but when she told Jackie about her film in 1999, he just asked what she needed. With Filmtech camera and lighting equipment, he supported her and got a "Special Thanks To Jackie Chan" in the credits.
2000 A.D. (公元2000 AD)
Release date: 27 January 2000
This film has caused confusion over the last few decades. Sometimes it was claimed that Jackie was co-producer, but only Willie Chan appears. It was also not produced under Jackie's film company, which no longer existed. Nor did he himself play a part in it. But he once again provided firearms, i.e. props, through his Filmtech department.
Spacked Out (無人駕駛)
Release date: 4 May 2000
A CAT-III drama with female leads, for which Filmtech provided the camera equipment. Johnnie To serves as producer.
The Accidental Spy (特務迷城)
release date: 18 January 2001
Shortly before shooting started on 1 March 2000, the film was still being traded as a potential "Police Story" successor, but then it was rewritten. Filmtech once again provided its own film equipment for this international action film of the new millennium.
Hit Team (重裝警察)
Release date: 22 February 2001
The special unit of this Acton film by Dante Lam was proudly equipped by Filmtech Props Services Ltd. A great cast around an up-and-coming Daniel Wu.
The Medallion (飛龍再生)
Release date: 15 August 2003
Already at the end of 2000, the project was officially discussed and went into pre-production as "Highbinders". Some problems haunted the production, which also caused a release to be postponed. The great success of the Hong Kong production unfortunately failed to materialise. One of the last Filmtech-supported films.
New Police Story (新警察故事)
Release date: 23 September 2004
Unbelievable but true. Right after the success of "First Strike" (1996), Jackie Chan wanted to build on it and talked about a "Police Story 5" in which Maggie Cheung would also return. Unfortunately, nothing came of it, but years later we got this action hit, again supported by Filmtech; they provided some props, similar to "The Accidental Spy" (2001).
Rob-B-Hood (寶貝計劃)
Release date: 8 September 2006
This film is not only the last in the series of films supported by Filmtech, but was even planned as a big reunion of the three brothers Jackie Chan, Sammo Hung and Yuen Biao. Unfortunately, this did not come to fruition, and to this day fans worldwide are waiting for this one film with all three of them together. Filmtech once again provided film props.
---
For the sake of completeness, other company names are mentioned here that use the term "Filmtech" and were registered in Hong Kong. So far, no reference to the Filmtech company founded by Jackie Chan at that time is known. The companies are as follows:
Filmtech Development Limited (千特發展有限公司), incorporated: 17.07.1992, dissolved: 03.04.2008, registration number: 0193425.
Filmtech Production Services Limited, incorporated: 08.09.1992, changed its name to Willful & Company Limited on 16.02.2001, registration number: 0377919, status: active.
Filmtech Design & Decoration Services Limited, incorporated: 29.05.2000, dissolved: 26.01.2007, registration number: 0718268.
Filmtech Egineerng Limited (昌瑞工程有限公司), incorporated: 19.05.2022, registration number: 3153925, status: active.
Jackie Chan's Forgotten Technique – Filmtech Services
And German-speaking fans can listen to even more background information on Filmtech and the associated film list in episode 30 of my "Meister aller Podcasts", the first and only Jackie Chan podcast in German.