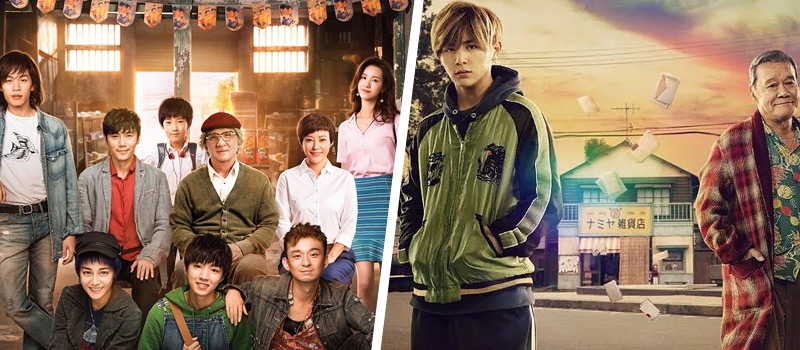 Japan, China filming Keigo Higashino's Namiya novel each
Keigo Higashino is an award-winning Japanese writer. In 2012, he wrote the fantasy novel "Miracles of the Namiya General Store". In 2017, the Japanese director Ryuichi Hiroki made the story into a movie, that premiered on September 23, 2017. The Chinese adaptation with Jackie Chan will be released in cinemas on December 29th, 2017. High risk of confusion!
"The Miracles of the Namiya General Store" (Japan)
The original Japanese novel adaptation comes from Ryuichi Hiroki, in the leading roles Masato Hagiwara, Kento Hayashi, Mugi Kadowaki and others. The whole thing was produced by Japanese film studios, including J Storm and Kadokawa. Emperor Motion Pictures, the umbrella organization of Jackie Chan's film company Jackie & JJ Productions, had secured the rights for the distribution in Hong Kong. The movie started on October 19, 2017, in Hong Kong.
Additionally, Emperor Motion Pictures found that Keigo Higashino's award-winning story had potential for a local cast. In the end, they bought the distribution rights to their own film for the Hong Kong and China markets.
"Namiya" (China, Hong Kong)
The Hong Kong-Chinese adaptation of the film is directed by Han Jie, starring Dilraba Dilmurat, Karry Wang and Lei Hao among others. Jackie Chan acts here as the grandfather and shop owner. He himself has never read the novel and relies on the judgment of its producers, with whom he has worked successfully for years.
Jackie Chan in an interview with Oriental Daily:
"I don't mind," said Jackie Chan when asked by Oriental Daily whether he was comfortable playing the role of an old man. "I played an old man in 'The Karate Kid' and 'The Foreigner'. As an actor, I have to be able to take on different roles."

Jackie Chan
Jackie Chan becomes a serious actor
This courage has to be rewarded, Jackie Chan hopes for understanding from his fans. Because for several years, he has been emphasizing again and again that he cannot forever be the kung fu clown who does all his breakneck stunts himself.
Jackie Chan has succeeded in switching from martial arts actor to serious actor at the latest since this year, an incredibly productive year for the Hong Kong Chinese – at least since his convincing performance in "The Foreigner" at the side of ex-James- Bond actor Pierce Brosnan.
Namiya release dates still unclear
It is still unclear when the two Namiya films will be shown in German cinemas. The release date for the Jackie Chan version of Namiya is December 29, 2017, starting in China, Great Britain and Ireland. Canada and the USA will follow in early 2018.
It wasn't until early November that it was officially announced that Jackie Chan played the shopkeeper in the movie "Namiya". They did not want the Japanese production to be overshadowed beforehand – certainly stipulated by contract.
"Namiya" (2017) – Trailer