Jackie Chan confirms "Rush Hour 4": History of the buddy film trilogy
It may be Jackie Chan's, Hong Kong's most popular film export, year of his life at 63. First, the official award of his honorary Oscar, then the celebration of the 40th anniversary of his stunt team, the announcement of a new studio album and a good dozen films on the big screen around the world. During his big promotional tours of "The LEGO-Ninjago Movie" and "The Foreigner", the sympathetic Asian now announced: "Yes, there will be a fourth 'Rush Hour' film."
"It's not about the money", Jackie Chan tells the hosts of "The Cruz Show", a popular radio show from Los Angeles, USA. "It depends on the timing." He is talking about the production of part four of the popular "Rush Hour" film series with co-star Chris Tucker. The first script discussions took place as early as 2010 and a continuation of the successful film series became public. But somehow it didn't work out properly anymore. Here is a short history of "Rush Hour" and its successors.
"Rush Hour" – how it all began
Jackie Chan tried "The Big Brawl" back in 1980 at the tender age of 26 on the US market. Unfortunately, without great commercial success, but he learned a lot, which he has successfully integrated into his filmmaking to this day. In the mid-80s, the action flick "The Protector" (1985) should be another attempt to win over the US film market. But that also failed. It wasn't until 1998 that Jackie Chan was persuaded to do a project again – "Rush Hour". After the success of "Rumble in the Bronx" (1995), which was the first Hong Kong film to be distributed worldwide in English and which broke all records, US producers became aware of the likeable Chinese. Brett Ratner, then in his late twenties and known as a director of hip-hop music videos supported by Steven Spielberg, developed a buddy comedy and convinced Jackie Chan of his idea in 1997 on the set in South Africa for "Who am I?" (1998). His best argument: "Jackie, I have the story and the equipment. You take care of the action alone. I'm not talking to you about that."
"Rush Hour 2" – an (a)typical sequel
After the groundbreaking success of the first part, which grossed over $ 244 million worldwide with a budget of 33 million, it was clear that the success had to be built on. The first ideas for a sequel were worked out in 1999 while Jackie Chan was shooting his millennium blockbuster "Shanghai Noon" (2000) with Owen Wilson and Lucy Liu. With this western comedy, a dream come true for Jackie Chan, it became a million-dollar success, the old master had finally arrived and was convinced that Hollywood has finally understood what a real Jackie Chan film needs. A worldwide grossing of over 347 million dollars on a budget of 90 million dollars proves the film is right.
"Rush Hour 3" – too little, too late
There were just three years between the first two publications, another six years separate the third from the second part. In terms of content, it was only logical that the team of Jackie Chan and Chris Tucker would go to Europe for a third part, for both unknown territory. But before production began, Jackie Chan was reluctant to say: "It was too long ago, nobody wants to see anything from us." Unfortunately, the bare numbers prove him right: Just 258 million dollars in gross profits with a crisp 140 million budget – not a satisfying result. The voices of the audience did the rest. Better for them they decided not to shoot part 3 and 4 at the same time, because this idea was actually in discussion!
"Rush Hour 4" – highlight or disaster?
So what's next? Nothing is known about the plot of part four of the "Rush Hour" trilogy, which is thus promoted to a series. So what could it be? Time did not stand still in fiction either, a total of eleven years (!) would lie between part three and four. Carter and Lee have gotten older, maybe they are now training the offspring together and are caught in an ambush in which they have to show the younger generation what to do? Let's hope for a highlight, we'd rather expect shallow conversation. The undertaking of another "Rush Hour" flick is brave, and if the film series should go on after that, statistically speaking, "Rush Hour 5" would not be in theaters until 2035 at the earliest. Then, Chris Tucker would be 64 and Jackie Chan 81 years old.
Oh yes, there is still one obstacle. Jackie Chan blessed the script shortly before the interview on "The Cruz Show", but there is still one important part missing: Chris Tucker has yet to confirm his part. Because what would a Lee be without his Carter?
Trailer for "Rush Hour 4: Face/Off 2"
The "Rush Hour" series has so many fans around the world that even the comedy website "Funny or Die" made its own fake trailer in 2015. In addition, the creators integrate a sequel to the John Woo film "Face/Off", at the time with John Travolta and Nicolas Cage.
In "Rush Hour 4: Face/Off 2" it's about … oh, see for yourself …
Chris Tucker confirms "Rush Hour 4"
When Chris Tucker, who had withdrawn from the public a little for a few years, was invited as a guest in an interview with the ESPN podcast "The Plug" on February 22, 2018, he was supposed to be talking about the current NBA All-Star game to report. But the actor said in a short subordinate clause:
It will happen. It will be the mother of all "Rush Hours". Jackie is in the starting blocks and we want to deliver the film so that everyone will remember it.

Chris Tucker
You can listen to the original podcast here (click here). But until today, director Brett Ratner is said to be missing. Critics claim he won't be returning to the original trilogy for a fourth installment, likely due to the sexual abuse allegations that appear to have struck him as well.
Easteregg: Jackie Chan's father Charles Chan discovered in "Rush Hour" (SPOILER)
Even if we have to wait a little longer until "Rush Hour 4" really goes into production, the fans still have three first parts that they can throw into their DVD player from time to time. Whoever is viewing the first part should keep their eyes open from minute 34 – because here Jackie Chan's father is actually sitting in the background of a scene.
Charles Chan Chi-Ping (also known as Fong Dao-Long) was known for wearing a slouch hat and smoking his pipe with relish until his death on February 26, 2008. This is exactly what Jackie Chan honors in a small scene in "Rush Hour" (1998). When Chris Tucker chains his colleague on the steering wheel, the wise Chinese man is seen puffing on a stool in front of a shop.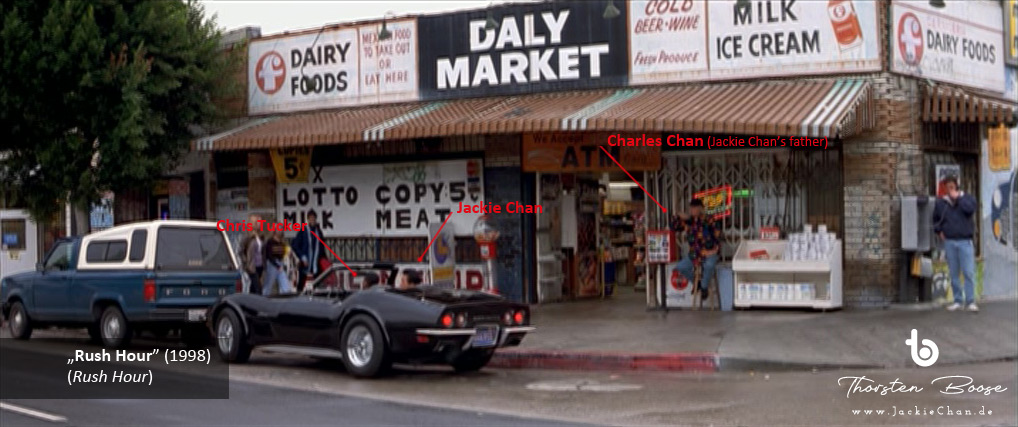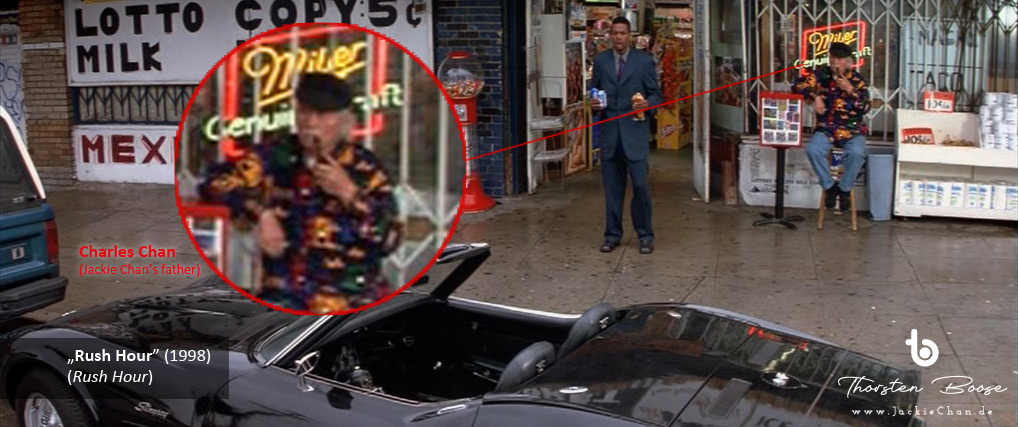 No "Rush Hour 4 ever"?!
After all these years and the various confirmations, the unbelievable happened in July 2019: Jackie Chan and Chris Tucker testify live in front of fans that there won't be a fourth part of "Rush Hour" after all.
So, what now? Since then, more and more friends of the original buddy trilogy, which celebrated its beginning in 1998, have been asking this question. During the 5th Jackie Chan International Action Film Week fan party, Hollywood comedian Chris Tucker paid his buddy a surprise visit.
Of course, the host of the show asked for another joint film. Chris Tucker's answer:
Yes! We'll do something together again. Look forward to our new film together!

Chris Tucker
Jackie then immediately explains in Chinese – and then in English – that it will probably (!) not be "Rush Hour 4" but rather a different project. Bigger than "Rush Hour" … so, not a "Rush Hour 4 ever"? Look here from 1:43:00.
Rumour has it from other circles that the last word has not yet been spoken and that the perfect script for a comeback of the fastest fist from Hong Kong and the biggest mouth from the USA is still being worked on – for years.
Or why has director Brett Ratner been using the hashtag #RushHour4Ever for some time in his rush hour-relevant posts and stories?