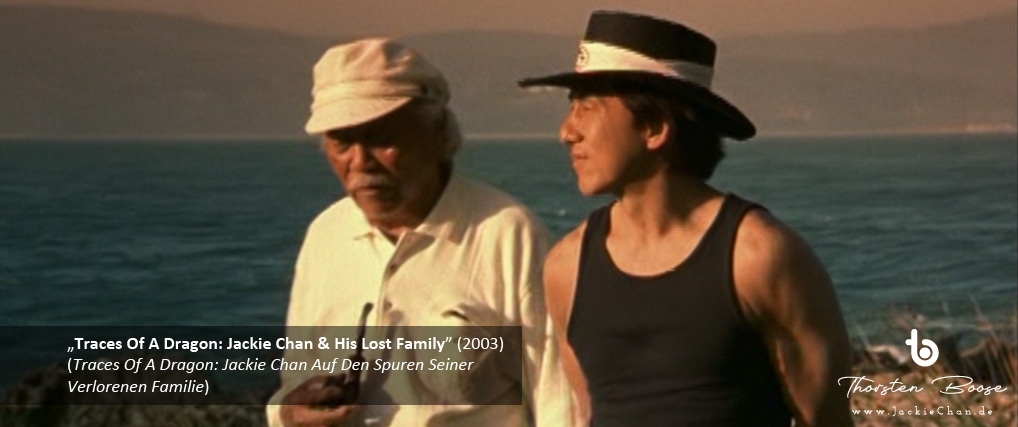 Like son like father: Charles Chan's guest appearances in Jackie Chan's films
The actor and director Jackie Chan does not come from an acting family like his Hollywood colleagues Michael Douglas, Michael Keaton or Charlie Sheen. With his breakthrough in the late 1970s, he not only ensured that his friends and stuntman colleagues got film jobs, but he also made up for lost time with his father on his own film sets – sometimes in front of the camera.
When Jackie Chan joined the China Drama Academy under the guidance of his master Yu Jim-Yuen in 1961, he did not yet know what this step would mean for his future. His parents, father Charles Chan Chi-Ping and mother Lee-Lee Chan, moved to Canberra, Australia, for job reasons, and passed custody to Jackie's new master. For many years, the Chan family communicated only through letters and audio tapes. Long-distance telephone calls were expensive.
In 1971, Jackie left the China Drama Academy, where he had learned the art of Peking Opera for ten exhausting years, and was henceforth on his own. Even during his training he had small appearances in Hong Kong films, but from now on it was a matter of earning a living as a stuntman every day.
After a few flops, Jackie moved to his parents in Australia, but the Hong Kong film industry quickly called him back. It took a few more years before Jackie Chan finally became a star in Asia in 1978. With the move from Lo Wei Pictures to Golden Harvest, the production company that made Bruce Lee famous worldwide, he became a megastar and was able to support his comrades, friends, colleagues and his own family, all of whom have helped him so often.
Chan's dad goes from being a chef to being a movie star
His first film for Golden Harvest was "The Young Master" (1980), which was finally followed by a semi-sequel called "Dragon Lord" in 1982 after almost two years of production. In rare archive footage from the set, Jackie's father Charles Chan can be seen next to his son, who is just celebrating his 27th birthday. In the middle of the hot production phase of "Dragon Lord".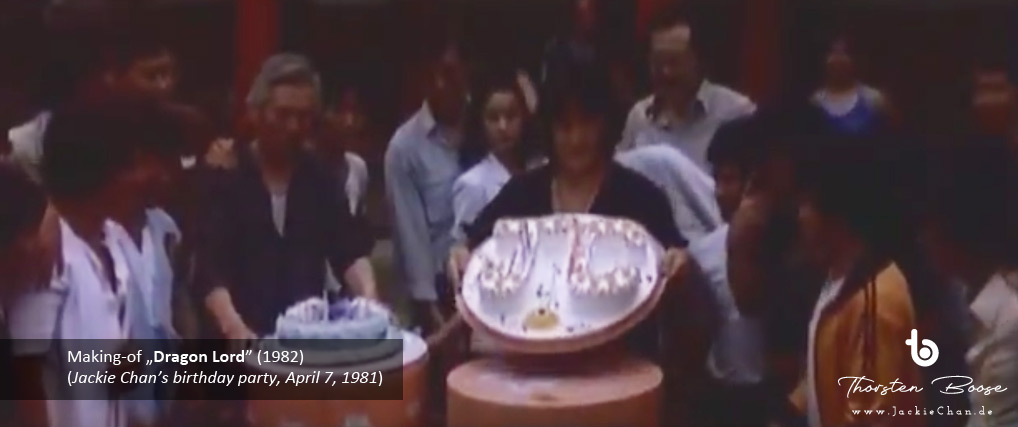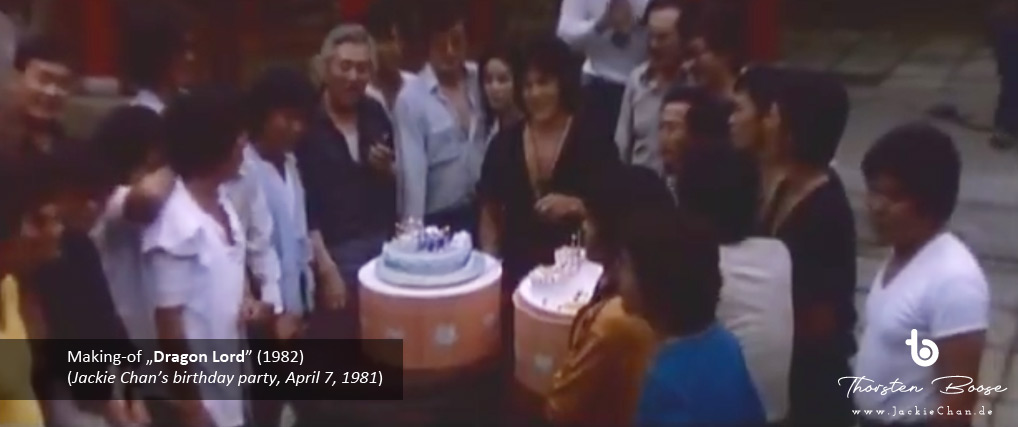 Behind the scenes/teaser trailer
This special teaser trailer for the film "Dragon Lord" (1982) also shows footage from the set of the film. They wanted to get the Hong Kong audience really excited about the next big Jackie Chan blockbuster in advance. The special feature: Charles Chan celebrates his son's birthday here on the set.
Fans will find this very rare "behind the scenes" teaser on the 88 films blu-ray release.
These recordings are the earliest that show Jackie Chan's father together with him on a film set. Even then, Charles Chan's trademark was his schnauzer and his pipe; years later, he added a hat to his look.
Charles Chan cannot be seen in the movie itself, why shouldn't he, after all, he only visited his son on his second big film set. But what happened in the same year after the release of "Dragon Lord" in 1982 couldn't be better written in a script: Charles Chan made a guest appearance as a fighting cook in the action comedy "Kung Fu Cook".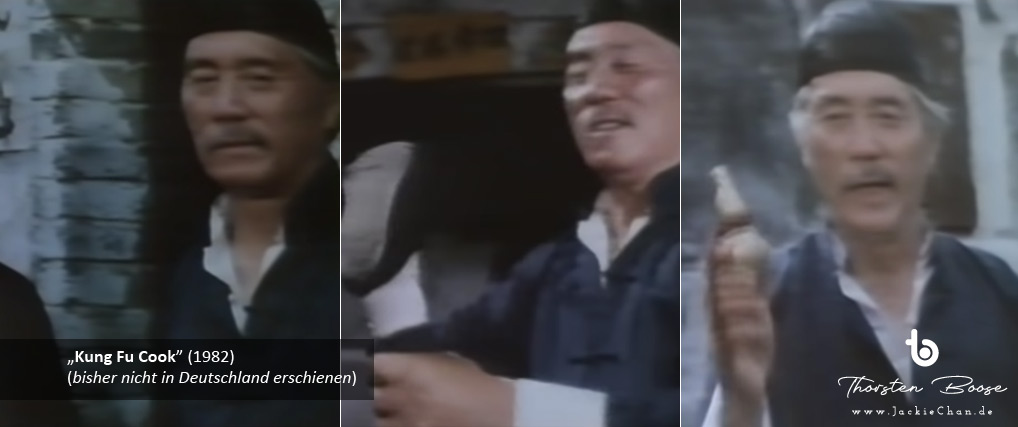 It is interesting that Charles Chan Chi-Ping, after he fled mainland China to Hong Kong in the early 1950s, found a job as a cook at the French consulate on Victoria Peak – without being able to cook at all! He taught himself everything and was quickly promoted to head chef for the consul. When his son Chan Kong-Sang, aka Jackie Chan, was born, he taught him the art of kung fu at an early age while cooking for high-ranking officials on Victoria Peak.
Like father like son: Jackie Chan never attended a film academy. He learned everything he knows about film today on the film set by trying things out and talking to the experts.
Unintentionally in the spotlight
How Charles Chan got the small film role in "Kung Fu Cook" (1982) is not known. It was probably a favour for his son and a schoolmate back then, Yuen Miu, who Jackie had lived with for years at the China Drama Academy and who choreographed the action for this film. But the fact is that this guest appearance is the only one of the Chinese.
In the next few years, he often accompanied his son around the world in order to be able to provide him with moral support on the film set. Charles Chan was also present at the dangerous clocktower stunt in "Project A" (1983). Jackie even deliberately placed his father downstairs as an extra. But as he confirmed on January 29, 1996, at the "An Evening with Jackie Chan" event at the Rubloff Auditorium in Chicago, the scenes were not used because Jackie did not dare to do the stunt for days. Unfortunately, on the day of shooting, due to pressure from Sammo Hung, his father was no longer present.
While Charles Chan has always been very restless and eager to travel, Jackie's mother Lee-Lee Chan preferred to stay at home in Canberra. There is a story that Lee-Lee Chan visited his son while filming "Dragon Lord" (1982), probably on the occasion mentioned above. When Jackie was injured and bleeding while doing a stunt, the poor woman reportedly passed out and was taken back to the hotel. From then on, she no longer wanted to be part of her son's nerve-wracking film shoots.
Who could blame her?
In 1986, Jackie's father was again put on celluloid, albeit rather unintentionally. In a rather easier stunt in what was then Yugoslavia, Jackie slipped off a tree and fell meters deep into the branches. He was seriously injured, the entire team and his father ran up to him and loaded him into a jeep that was taken to the hospital. The fall could have cost Jackie Chan his life. Charles Chan was by his son's side the whole time.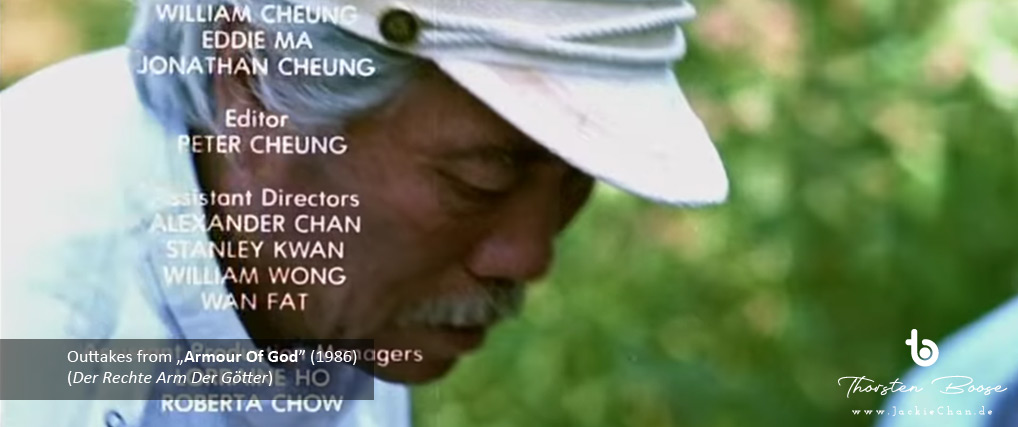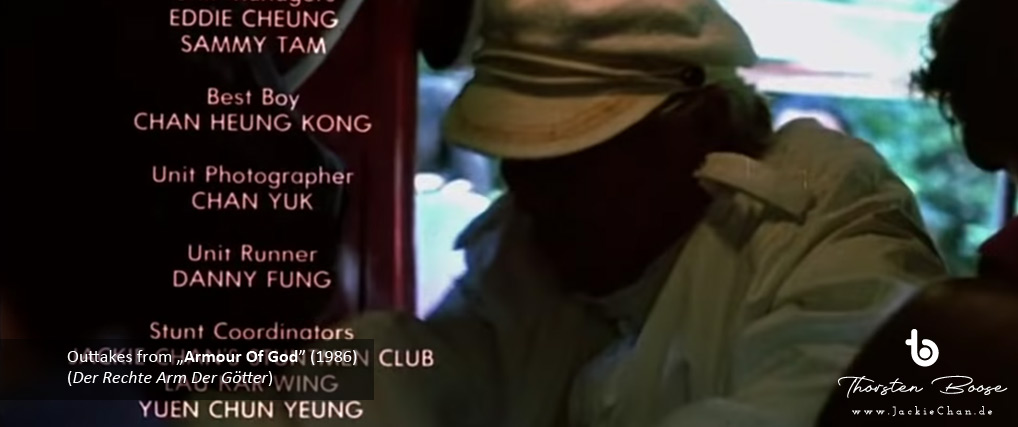 Put in position
After this shock, Jackie recovered for a few weeks in the hospital, but this daredevil's action blockbusters continued to be released each year, also in 1988, with "Police Story Part II". In a scene at the beginning of the film, Jackie's character Kevin Chan and Maggie Cheung as May drive home in their car. In a shot of them driving up their driveway, one recognizes Charles Chan Chi-Ping walking through the night on the left edge of the picture, with a pipe and a hat – the same as in "Armour Of God" (1986).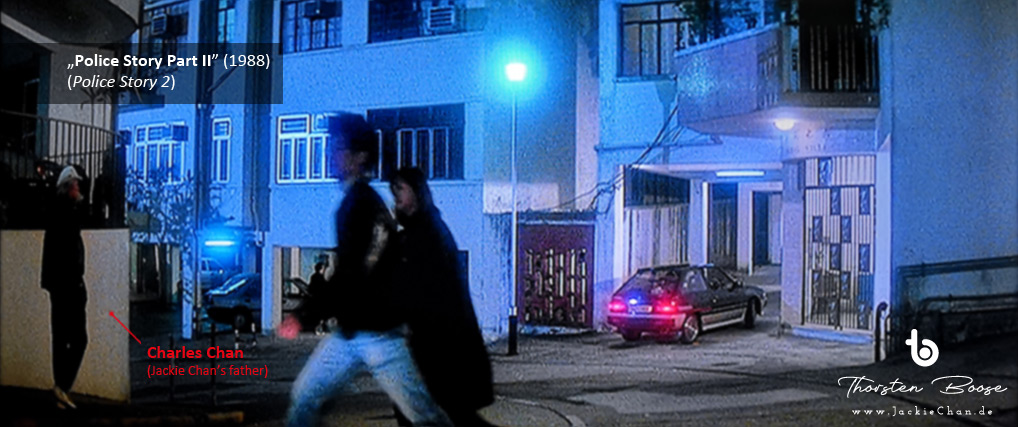 It would be almost ten years to the day before Jackie Chan's father could be recognized again in a film made by his son – if he was not overlooked. Because in a short scene in "Rush Hour" (1998) Jackie's old man is sitting comfortably on a stool in front of a supermarket and puffs with relish from his pipe under his cap.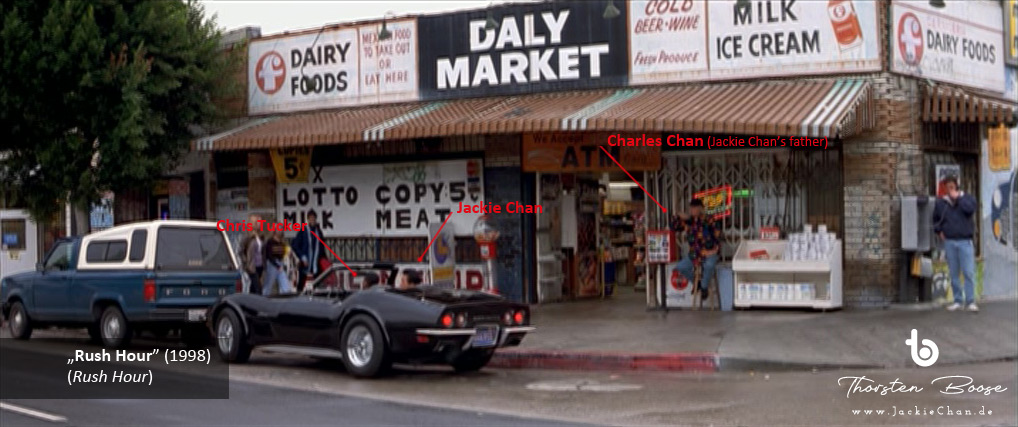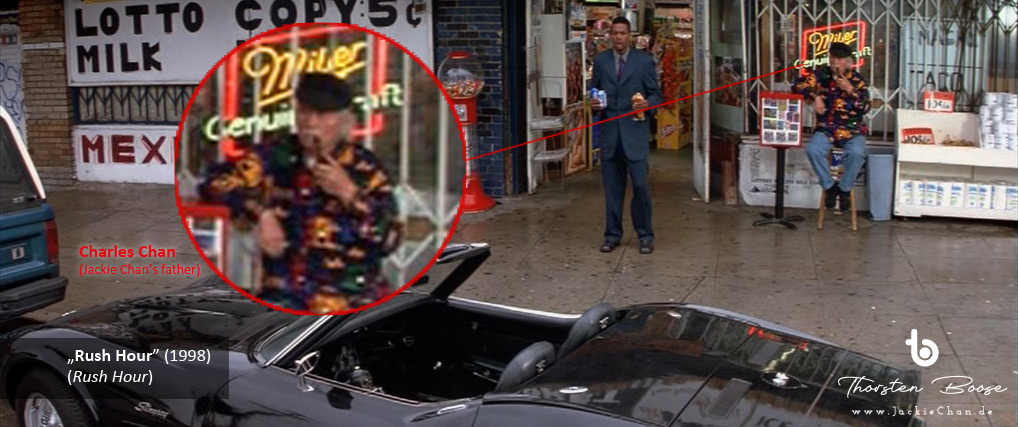 In the same year, the documentary "Jackie Chan: My Story" was released on video. Here, Jackie speaks for the first time in a film about himself and his family, unsuspecting what is in store for him in the next few years. Of course, his father Charles Chan was there, too.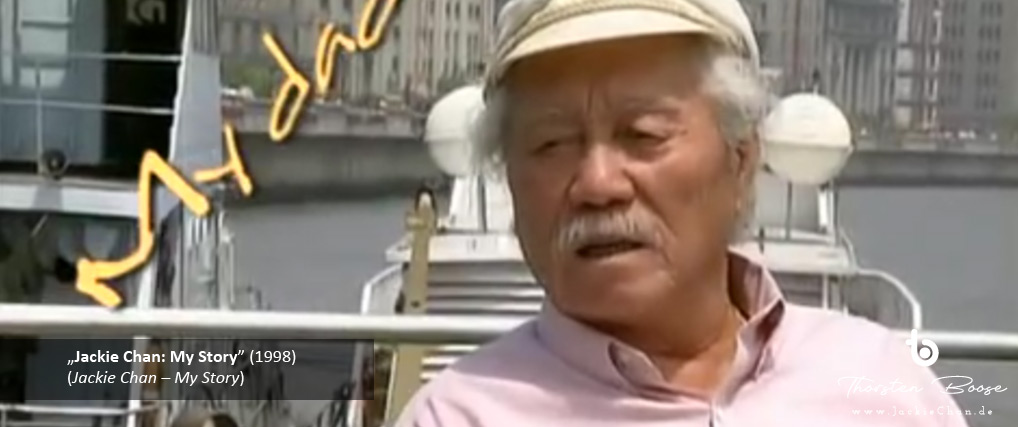 The Chans come full circle
When Jackie Chan's mother Lee-Lee Chan died on February 28, 2002, at the age of 85 or 86 (her exact date of birth is unknown), the actor was making his film "The Medallion", which due to the parallel shooting of "The Tuxedo" (2002) only came to the cinema in 2003. He got the sad news and kept it to himself. Nobody on the team knew that the sympathetic "happy-go-lucky" star mourned his mother.
Jackie's loss caused him to catch up on his own story. Where am I from? Who were my parents? Just two questions that the Hong Kong Chinese asked himself even more intensely than before. For many years, Charles Chan kept telling his son a little bit about his own past. But it wasn't until the turn of the millennium, combined with Jackie's breakthrough worldwide and the deteriorating health of his mother, that Charles Chan was ready to put all the cards on the table.
This is how the award-winning documentary "Traces Of A Dragon: Jackie Chan & His Lost Family" was created, directed by Mabel Cheung, in which Jackie lets his father have his say. This was to be Charles Chan Chi-Ping's last film appearance before he passed away on February 26, 2008, at the age of 93 – two days before the anniversary of his wife Lee-Lee Chan's death.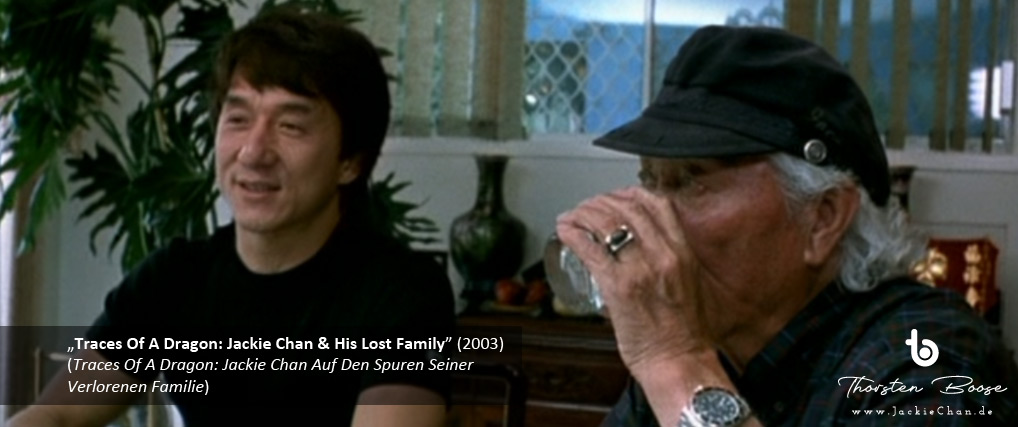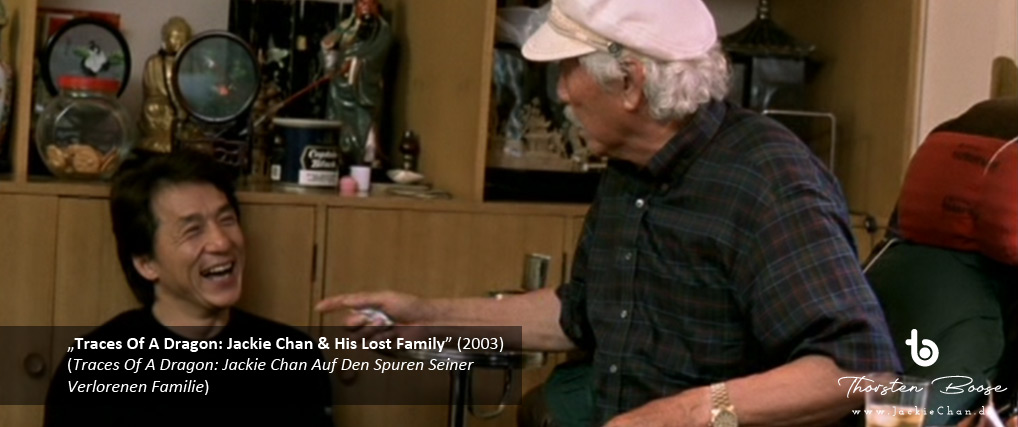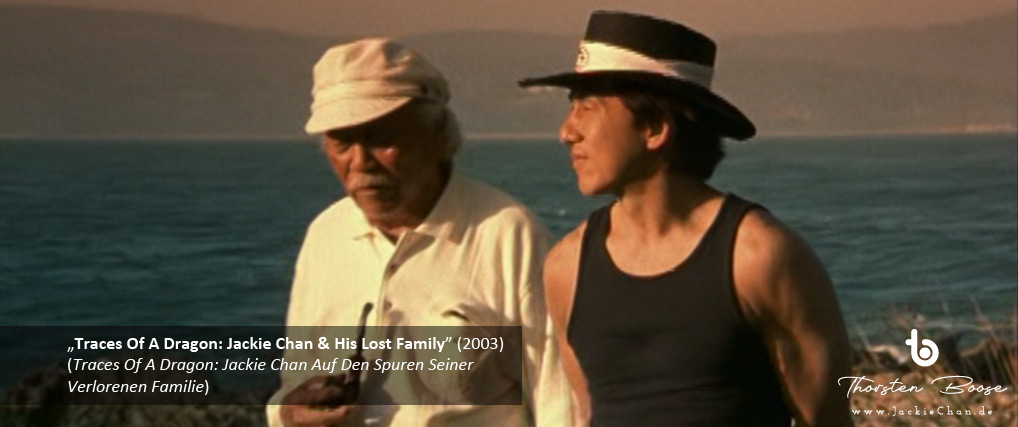 Do you recognize the hat? It's the same as in "Jackie Chan: My Story" (1998), "Police Story Part II" (1988) and "Armour Of God" (1986).
Charles Chan's filmography
1982: "Dragon Lord" (himself, only in BTS teaser)
1982: "Kung Fu Cook" (cameo as kung fu cook)
1983: "Project A" (planned cameo in clocktower scene, not filmed)
1986: "Armour Of God" (himself, only in the outtakes within the closing credits)
1988: "Police Story Part II" (cameo as stroller)
1998: "Jackie Chan: My Story" (himself)
1998: "Rush Hour" (cameo as man in front of the supermarket)
2003: "Traces Of A Dragon: Jackie Chan & His Lost Family" (himself)
incorrectly credited on IMDB
2003: "Saints And Soldiers" (Executive Producer is Charles Chan, not Jackie's father!)
2011: "6th March" (actor Chen Guan-Zhong's (陳冠中) international stage name is Charles Chan)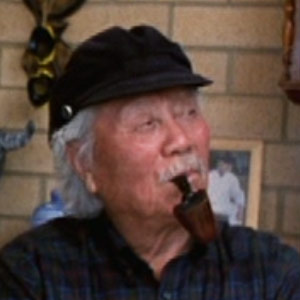 In 2015, the film "A Tale Of Three Cities" was made. Director Mabel Cheung tells the exciting life of Jackie Chan's parents Charles Chan, whose real name is actually Fong Dao-Long, and his mother Lee-Lee Chan. Jackie owns the rights to the story but has nothing else to do with the film.
It is possible that Charles Chan Chi-Ping can be recognized in other films of his son as an extra and/or in various outtakes, bloopers, NGs and BTS recordings (behind the scenes). Should there be any hints for this in the future, these will of course be supplemented with photos here.